A daily 208-second ritual can boost your creativity and help you make decisions, according to a career coach who works with teams around the world
Ylva Anderson is a coach in teamwork and leadership.During the Business Insider Trends Festival, she explained that today's style of leadership is outdated.She thinks everyone should be "switching off" every day for 208 seconds, or around three and a half minutes.Visit Business Insider's homepage for more stories.Standing before listeners at the Business Insider Trends Festival,…
Ylva Anderson is a coach in teamwork and leadership.
During the Business Insider Trends Festival, she explained that today's style of leadership is outdated.
She thinks everyone should be "switching off" every day for 208 seconds, or around three and a half minutes.
Standing before listeners at the Business Insider Trends Festival, team and leadership coach from May Strategies, Ylva Anderson said: "You should be shutting yourself down for 208 seconds, every day."
"I don't know about you, but I'm getting a little frustrated by today's organizations and leadership," she said at the start of her presentation titled: "Leadership: Are you ready to take a decision in 208 seconds?".
The coach is confident not only that this method could be greatly beneficial for creativity in the workplace, but that we also need to change the way today's leadership works.
Anderson has worked and published at various Swedish media companies — in television, radio, and print — for years.
She's also an expert in dynamic communication and is currently involved in leadership training at The School of Journalism and Communication at the University of Rwanda.
The way we lead needs to change
Anderson said that in her work she meets managers and teams from different countries and industries every single day.
The coach described the way they work as fast-paced, disorganized, and stressful.
According to her, managers are prisoners of the rat-race — they work under enormous pressure, they have no motivation, and they're exhausted.
In her opinion, they're also not particularly innovative when it comes to changes in leadership.
"We're doing more or less the same things we were at the turn of the 20th century — we're working as though we're in the early industrial era," said the coach.
She also highlighted that we're still working according to a pyramid structure, where those in command are at the top and those who are contracted in are at the bottom — but what can we do to alter this way of working?
According to Anderson, the answer is actually "the most powerful tool of all".
"It can change the world, it can change ourselves, it can bring about unexpected opportunities," she said. "It's creativity — the ability to adapt, transform, search for new methods, to improvise, and to play.
She believes that, in management and leadership, the pyramid model needs to be scrapped and replaced by a "circle of creativity" consisting of four elements.
1. Joint problem-solving
Communication and feedback, where everyone talks and discusses, where everyone is open to others' ideas without judgment and every reflection and conclusion is welcome.
2. Co-operation and co-creation isn't enough
The expert also proposed a new way of making decisions, where responsibility and decisions are taken together.
3. Management through training
This isn't just about bosses training their coworkers, according to Anderson; we should all be learning from one another.
"We should help elevate each other to the highest level," she said.
4. "Switching off" during the day
"We're not cut out for the speedy, messy, stressy lives we lead — our brains are constantly on the boil. In the circle of creativity, we need time for reflection and pause," said Anderson.
According to Anderson, "turning yourself off" during the day is the key to creativity, her suggestion being to mentally "log out" for exactly 208 seconds, or around three and a half minutes.
Read more: An office cat or dog won't just lower your stress levels — it may also boost your productivity
"If you take out 208 seconds a day or around three and a half minutes for a break, for silence, and for focus, you'll notice a big difference," said Anderson. "Those three and a half minutes do offer real results."
"The next time you are stressed before making a decision, stop putting pressure on yourself," she continued. "Instead, take a step back and give yourself those 208 seconds. I'm positive you'll notice the difference."
Read the original article on Business Insider Polska. Copyright 2019.
This story originally appeared on Business Insider Polska and has been translated from Polish.
Follow Business Insider Polska on Twitter.
Fans Celebrate #HOV50 and Share Favorite Jay Z Lyrics on Music Mogul's 50th Birthday
In honor of Jay-Z's 50th birthday, fans all across the globe flooded social media with warm messages of love and support.The hashtag #HOV50 began to trend early in the morning on Twitter on Wednesday as a result of the many well wishes from the longtime rappers' fans.Fans opened up on some of their most memorable…
In honor of Jay-Z's 50th birthday, fans all across the globe flooded social media with warm messages of love and support.
The hashtag #HOV50 began to trend early in the morning on Twitter on Wednesday as a result of the many well wishes from the longtime rappers' fans.
Fans opened up on some of their most memorable moments involving the music mogul—whose birth name is Shawn Carter but is commonly referred to by fans as Hov, short for Hova. They also posted messages of the many ways Jay-Z has inspired them, including with hundreds of photos, gifs and video clips of him in action.
Many people used the Brooklyn native's birthday to reflect on his work over the last three decades, listing their favorite albums, songs and guest features from the rapper.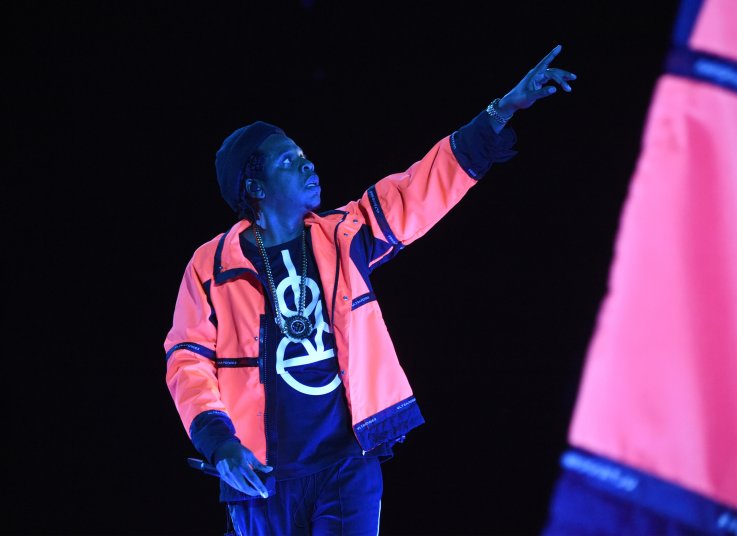 Album rankings weren't the only way fans recognized Jay-Z on his 50th birthday. Several people took to Twitter to commemorate the award-winning lyricist by sharing their favorite verses ever rapped by him. Classic Jay-Z lines from chart-toppers like "Hard Knock Life," "Song Cry," "Say Hello," and his guest feature on Kanye West's "Diamonds From Sierra Leone" were spotted on Twitter timelines.
Meanwhile, some fans said they'd celebrate Jay-Z's birthday by listening to his lengthy discography all day long.
Jay-Z made listening to his catalog a whole lot easier for some of his fans when he re-released his entire catalog of music again on Spotify.
The Roc Nation founder removed much of his work from the platform in April 2017 to the dismay of many loyal listeners just ahead of the release of his latest album, 4:44.
At the time the move seemed like a ploy to get fans to subscribe to TIDAL, the music streaming service he owns and operates. Now, Spotify users will get to listen to all of Jay-Z's albums and songs ranging from his 1996 debut Reasonable Doubt and so-called career retirement project The Black Album in 2003, his 2011 Watch the Throne collaboration album with West and several other staples.
Since he first emerged on the rap scene in the 1990s, fans have admired and praised Jay-Z for his many punchlines, thought-provoking lyrics and masterful storytelling. A natural wordsmith, he has kept listeners fascinated and moved with his ability to flow over a beat with grace and pizzaz—not to mention the fact that he creates hit after hit without writing his lyrics down.
It's a long-known fact Jay-Z doesn't write his albums but rather hits the studio with a few words already in mind before he jumps on a track. That habit sparked a number of younger singers and rappers following in his footsteps by not pre-writing lyrics to their songs.
"It just felt better [the way I do it now]," he said during a 2007 interview with MTV News. "In my mind, I said, 'OK, I'm gonna sit down and I'm [going to] just write it and really do this thing a certain way.' But your natural process is your process. It's difficult to go back to what you was doing when you was 15, 16 years old. My process is different now. It sounds great on paper, like 'I'm [going to] sit down, I'm going to write the entire album like I did before.' But once you get back in the studio and you've been doing this process for years and years now, so it just felt natural to do it the way I've been doing it: no paper, no pen, just listen to the music."
See more of how fans are celebrating Jay-Z's birthday below.