Facebook puts on brave face with Libra – BBC News
https://www.bbc.com/news/technology-50050383
After five major payments providers pulled out last week, Facebook's Libra currency project looked to be on the rocks.
But the remaining members have insisted it's full steam ahead.
The 21 founding companies in the Libra Association – down from 28 when the project was first announced – met for the first time in Geneva on Monday.
A spokesman told the BBC he believed the currency was still on track to launch next year.
But, he added, it would only do so if suitable regulatory approval had been granted.
It comes after a stern warning from the G7 group of nations that Libra risked disrupting the global financial order.
That concern followed a letter to payments providers from US senators Brian Shatz and Sherrod Brown, sent on 8 October, that threatened "a high level of scrutiny from regulators not only on Libra-related payment activities, but on all payment activities".
Libra Association spokesman Dante Disparte criticised the senators, telling the BBC the letter "stifles private market innovation".
"At some level it confounds the regulatory process and the law-making process of free market economies," Mr Disparte said in a phone call on Monday.
The interference created a "problematic precedent for the state of private sector innovation", he added.
Another drop-out
Visa, Mastercard, Stripe, eBay, PayPal and Mercado Pago were the six firms that dropped out ahead of Monday's meeting. On Monday morning, it was revealed that Booking Holdings – the firm behind Booking.com – had also pulled out.
The remaining 21 members all confirmed their commitment to the project at the Geneva meeting. Among them are rideshare firms Uber and Lyft, prominent venture capital firms Andreessen Horowitz and Union Square Ventures, music streaming service Spotify, and the sales and services arm of telecoms company Vodafone.
Netherlands-based PayU is the only remaining member operating in the online payments processing sector.
"We believe that the design of the Libra ecosystem has the potential to address a number of societal needs," a PayU spokesperson said, in a statement sent out by the Libra Association.
Search on for CEO
Of the 21 companies, representatives from five of the firms were elected to form the Libra Association's board, with Facebook's David Marcus among them. Bertrand Perez, a former senior director at PayPal, was appointed chief operating officer and interim managing director.
The board would soon set up a search committee to appoint a permanent chief executive, Mr Disparte said.
He added that many more firms were interested in joining the association.
"More than 1,500 organisations have expressed an interest in joining this effort," Mr Disparte said.
"Even though aspects of that have been difficult in the last few months."
In response to mounting concerns, Facebook's chief executive Mark Zuckerberg has been called to appear before a congressional panel on 23 October to discuss Libra, and likely other issues involving his firm.
_____
Follow Dave Lee on Twitter @DaveLeeBBC
Do you have more information about this or any other technology story? You can reach Dave directly and securely through encrypted messaging app Signal on: +1 (628) 400-7370
Fans Celebrate #HOV50 and Share Favorite Jay Z Lyrics on Music Mogul's 50th Birthday
In honor of Jay-Z's 50th birthday, fans all across the globe flooded social media with warm messages of love and support.The hashtag #HOV50 began to trend early in the morning on Twitter on Wednesday as a result of the many well wishes from the longtime rappers' fans.Fans opened up on some of their most memorable…
In honor of Jay-Z's 50th birthday, fans all across the globe flooded social media with warm messages of love and support.
The hashtag #HOV50 began to trend early in the morning on Twitter on Wednesday as a result of the many well wishes from the longtime rappers' fans.
Fans opened up on some of their most memorable moments involving the music mogul—whose birth name is Shawn Carter but is commonly referred to by fans as Hov, short for Hova. They also posted messages of the many ways Jay-Z has inspired them, including with hundreds of photos, gifs and video clips of him in action.
Many people used the Brooklyn native's birthday to reflect on his work over the last three decades, listing their favorite albums, songs and guest features from the rapper.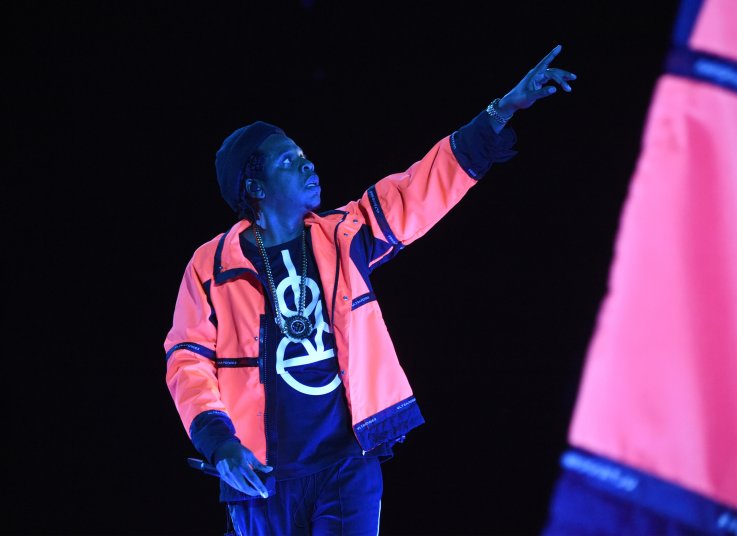 Album rankings weren't the only way fans recognized Jay-Z on his 50th birthday. Several people took to Twitter to commemorate the award-winning lyricist by sharing their favorite verses ever rapped by him. Classic Jay-Z lines from chart-toppers like "Hard Knock Life," "Song Cry," "Say Hello," and his guest feature on Kanye West's "Diamonds From Sierra Leone" were spotted on Twitter timelines.
Meanwhile, some fans said they'd celebrate Jay-Z's birthday by listening to his lengthy discography all day long.
Jay-Z made listening to his catalog a whole lot easier for some of his fans when he re-released his entire catalog of music again on Spotify.
The Roc Nation founder removed much of his work from the platform in April 2017 to the dismay of many loyal listeners just ahead of the release of his latest album, 4:44.
At the time the move seemed like a ploy to get fans to subscribe to TIDAL, the music streaming service he owns and operates. Now, Spotify users will get to listen to all of Jay-Z's albums and songs ranging from his 1996 debut Reasonable Doubt and so-called career retirement project The Black Album in 2003, his 2011 Watch the Throne collaboration album with West and several other staples.
Since he first emerged on the rap scene in the 1990s, fans have admired and praised Jay-Z for his many punchlines, thought-provoking lyrics and masterful storytelling. A natural wordsmith, he has kept listeners fascinated and moved with his ability to flow over a beat with grace and pizzaz—not to mention the fact that he creates hit after hit without writing his lyrics down.
It's a long-known fact Jay-Z doesn't write his albums but rather hits the studio with a few words already in mind before he jumps on a track. That habit sparked a number of younger singers and rappers following in his footsteps by not pre-writing lyrics to their songs.
"It just felt better [the way I do it now]," he said during a 2007 interview with MTV News. "In my mind, I said, 'OK, I'm gonna sit down and I'm [going to] just write it and really do this thing a certain way.' But your natural process is your process. It's difficult to go back to what you was doing when you was 15, 16 years old. My process is different now. It sounds great on paper, like 'I'm [going to] sit down, I'm going to write the entire album like I did before.' But once you get back in the studio and you've been doing this process for years and years now, so it just felt natural to do it the way I've been doing it: no paper, no pen, just listen to the music."
See more of how fans are celebrating Jay-Z's birthday below.