It's Absurd to Think People Have Total Control Over the Food They Eat
A new study published this week examines over a dozen food groups and ranks them based on associated health risk and environmental impact. According to the researchers' findings, per NPR, foods that carry a lower risk of disease, like fruits and vegetables, tend to take a lesser toll on the planet in terms of pollution,…
A new study published this week examines over a dozen food groups and ranks them based on associated health risk and environmental impact. According to the researchers' findings, per NPR, foods that carry a lower risk of disease, like fruits and vegetables, tend to take a lesser toll on the planet in terms of pollution, water waste, and land use than foods that carry a greater risk of disease, like red meats (though, apparently, that might be a bit overblown?). These metrics don't totally square up, one to one; nuts like almonds, for example, are nutritious and modest sources of protein, but they're also environmentally unfriendly due to how much water is needed to farm them. But overall, the study seems to say, the foods that are better for you are better for the planet, as well.
That's all well and good, but I'm just not sure what to do with that information. The researchers' analysis, published Monday in the Proceedings of the National Academy of Sciences doesn't tell me I should be doing anything with this information, but I feel like I should. I just don't know what… which is honestly precisely how I should feel when presented with an abstract discussion of food choices that frames the choices I make as a matter of personal agency rather than something decided for me by the political and economic systems I live under!
Knowing that red meat, especially processed red meat, increases my absolute risk of mortality by as much as 20 percent, not to mention my risk for developing diabetes, cardiovascular disease, and some forms of cancer, doesn't necessarily give me the power to act on that knowledge under American capitalism. I might want to change my diet, but if I'm low-income, food-insecure—as more than 37 million Americans were in 2018—and live in what the Department of Agriculture dubs a "food desert" where pricier produce and whole foods might be nowhere to be found, it's not guaranteed that I can. Even if I do change my individual consumer habits, forgoing red meat on account of the toll its production takes on our environment, that won't change decades of government policy that have prioritized domestic production of red meat through farm subsidies while pushing fruit and vegetable production overseas, making the former food group cheaper to purchase than the latter two in the U.S.
There's nothing wrong with knowing about the health risks or environmental impact of the foods we consume, obviously. Knowing things is great! But the implication, whether intentional or not, that we, as individuals, are fully in control of our food consumption is absurd. These choices are made for us at the structural level. We might be able to expand those choices on the individual level through accumulating personal wealth, but not everyone can count on that under our current economic system, which is also by design.
Sign up for our newsletter to get the best of VICE delivered to your inbox daily.
Follow Harron Walker on Twitter .
'Swallow' Is Feminist Body Horror About Women, Food, and Control
In a world tirelessly preoccupied with what women eat, director Carlo Mirabella-Davis has found a way to make the topic feel fresh with Swallow, a feminist body horror film about a dissatisfied young housewife who starts a new diet. But it's not an eating fad or a fast food binge or whatever supplements Goop is…
In a world tirelessly preoccupied with what women eat, director Carlo Mirabella-Davis has found a way to make the topic feel fresh with Swallow, a feminist body horror film about a dissatisfied young housewife who starts a new diet. But it's not an eating fad or a fast food binge or whatever supplements Goop is shilling: It starts with a marble, and Swallow spins out of control from there.

Opening with limited release today, Swallow centers on a young woman named Hunter (played by Girl on the Train's Haley Bennett) as she navigates married life with her husband Richie (Austin Stowell) who often isn't home, leaving her to pick drapes and play phone games in their icy glass box of a house in New York's Hudson Valley. Despite the trappings of a nice life and a baby on the way, Hunter seems empty. Without a job and with social interactions mostly mediated by Richie, she lives a Betty Draper-esque existence, though in modern times.
When she starts eating household objects—a marble, a push pin, a battery, and other more dangerous things—it takes a while for anyone to notice. Eventually, they do, putting a name to what Hunter is experiencing: pica, an eating disorder that involves compulsive eating of non-food objects, and it wasn't simply pulled from thin air as a plot device. In an unhappy marriage, Mirabella-Davis's grandmother experienced pica in the 1940s, and her husband institutionalized her for it; decades later, their story has inspired Swallow.
"I really felt like her story was extremely important because there's this strange old guard of patriarchy and sexism that I think is being revitalized by the Trump administration," Mirabella-Davis told VICE in an interview. Referencing Tucker Carlson's vocal disdain for feminism, Mirabella-Davis sees the gaslighting his grandmother experienced in the 40s as something not only of the distant past. "I felt that my grandmother's story could fit into a lot of current issues in a very timely way."
With Hunter's pica diagnosis, Swallow reveals more unsettling turns in its vision of feminist horror, both visually and thematically. It takes the act of eating—something that's already endlessly policed when it comes to women—and makes it traumatic through scenes that aren't exactly gory, but show just enough viscera to make you wince with discomfort. And in contrast to the supernatural bent of 2014's It Follows, another female-led indie horror classic, Swallow is disconcerting because it feels real, putting a lens on the simmering state of horror that women still live through in a world controlled by men.
The decision to set Swallow in the present-day—as opposed to the easier-to-write-off norms of the 40s—was intentional. Hunter might be a modern woman with money and material pleasures, but she's still beholden to her husband, and her lifestyle is entirely dependent on him. While that arrangement works for some people, it's clear that it doesn't work for Hunter; the expectations of that life and the empty satisfaction that it brings force Hunter to shrink herself.
"This is a world that she's creating based on what she feels the expectations of her are… It's performative. It's like [her] projection of the American Dream, and [what she] thinks a wife should be," Bennett told VICE in an interview. Perhaps catalyzed by her pregnancy, Hunter realizes she's no longer satisfied subsisting within those expectations. According to Bennett, "it's as though, I've kind of swallowed and forgotten who I really am, like it's so deeply buried. The compulsion leads her into this awareness."
Bennett's performance takes up the vast majority of Swallow's screen time, and her performance as Hunter is memorably haunted. "There is an apathy and a detachment to Hunter from the start of the film, and she really takes a journey into discovering these other facets of her trauma," Bennett explained. "But I looked at Hunter as if she was wearing masks, and there were layers and layers of armor that she had put on… I think that I have experience in that, of trying to conform to what society wants for me and what I think people want as opposed to what I want."
While Swallow depicts the privileged experiences of a wealthy, white woman—as one character in the film even implies to Hunter—Mirabella-Davis thinks the story resonates more broadly. "I think it's a film that is about embracing who you are and fighting back against the modalities that are constraining you and restricting you and also dealing with the trauma from your past that may also be factoring in," he said. "I think that's, hopefully, something that is a universal tale."
Swallow makes it clear, however, that getting to that point of confidence and acceptance isn't easy. As Hunter tries to control her life through the compulsive behavior of unrestrained ingestion, it only leads to her being controlled even further. Swallow's message isn't deeply buried, but nonetheless, it's effective—and its presentation is sure to make your skin crawl.
How Stupid Do Cops Think We Are?
This article appears in VICE Magazine's Stupid Issue, which is dedicated to the entertaining, goofy, and just plain dumb. It features stories celebrating ridiculous ideas, trends, and products; pieces arguing that unabashed stupidity can be a great part of life; and articles calling out the bad side of stupidity. Click HERE to subscribe to the…
This article appears in VICE Magazine's Stupid Issue, which is dedicated to the entertaining, goofy, and just plain dumb. It features stories celebrating ridiculous ideas, trends, and products; pieces arguing that unabashed stupidity can be a great part of life; and articles calling out the bad side of stupidity. Click HERE to subscribe to the print edition.
"The worst thing you can do is make an officer feel like they have done something wrong when you don't have any evidence to support it," Brian Hornaday, chief of the Herington Police Department in Kansas, told VICE. "As the leader of a law enforcement agency, you always want to believe that the person you have hired and has been sworn under oath will be honest all the time."
It's July 2019. Phillip Powell, a corrections officer with the Marion County Sheriff's Office in Indiana, is peering angrily at his McChicken, which he placed in the break-room fridge of the Marion County Jail at the beginning of his shift. Seven hours later, the sandwich has been bitten into, and Powell can only conclude one thing: A McDonald's employee, out to score a cheap win against a cop, took several small bites out of his sandwich. After placing an anonymous call to a local radio station in which he accuses an Indianapolis McDonald's of food tampering, he remembers he was the one who bit his sandwich, and he is placed on 16 hours of unpaid leave.
It's now November. A McDonald's manager in Bakersfield, California, is contacting the Kern County Sheriff's Office because she believes she saw security footage showing 21-year-old Tatyana Hargrove rub a hamburger bun on the floor, spit in a burger, then serve it to a uniformed Bakersfield Police Department officer. Within two weeks, she and other employees are interrogated, and Hargrove is charged with battery and "attempting to mingle substances with food and drink." The latter is a felony.
It's Thanksgiving. Kiefer police chief Johnny O'Mara is furious that four of his officers received drinks from a Glenpool, Oklahoma, Starbucks with the word pig printed on the labels. He posts a photo to his Facebook page, which eventually leads to the firing of the barista and the location's manager—a consequence O'Mara later claims was unintended.
It's December. In Queens, New York, a New York Police Department officer in plain clothes is allegedly served a sandwich with a razor blade in it at the Bon Appetit Deli. Police commissioner Dermot Shea will later dismiss this as an accident in a follow-up to the tweet he posted a day before about the "full investigation" of the "abhorrent act" itself.
The same month, in Riverside, California, two uniformed deputies leave a Starbucks because, they believe, its employees are ignoring and laughing at them. Their sheriff will later criticize Starbucks for "[downplaying] what happened" in a Facebook Live interview.
And just before the end of the year, in Herington, Kansas, William Darling shows his police chief the words fucking pig written on a McDonald's cup, a picture of which Hornaday proceeds to post to Facebook. When it is revealed days later that Darling wrote the insult on the cup himself, he resigns.
According to law enforcement officers, there's a war being waged against them. The battlefield? Fast food eateries across the U.S. The boys in blue are struggling against service workers in green Starbucks aprons or black and gray McDonald's polos who are primed to disrespect them, ignore them, write them rude little messages, even poison them. And in order to spread awareness about the minimum-wage menace, police departments have one weapon in their arsenal that they're happy to deploy: social media.
"There are a lot of contemporary legends that go back at least to the early 19th century that deal with contaminated food," said Joel Best, a sociology and criminal justice professor at the University of Delaware who has researched urban legends like Halloween candy contamination. "The famous old example of this is Sweeney Todd's pies… [Modern examples include:] Burger King special sauce has semen in it, McDonald's sells horsemeat, there's rats in Kentucky Fried Chicken."
Best said food contamination—especially fast-food contamination—is a fixture of contemporary legends because of the inherent level of trust and vulnerability involved in a fast-food transaction. "You're going into some place and you're trusting somebody to give you something that you're going to put in your body. What do you know about them? You know nothing about them!"
According to law enforcement officers, there's a war being waged against them. The battlefield? Fast food eateries across the U.S.
Social media, he said, only supercharges our ability to share those stories. "The means of creating news, creating claims, is really in everybody's hands."
Darling, the officer who resigned in the wake of the McDonald's hoax, said he did not intend to create news; instead, he initially intended his anti-cop cup to be an inside joke among friends, but it quickly spun out of control once his superior posted it to Facebook.
"I made a very poor decision towards the beginning of the situation. I allowed it to continue instead of having the courage to speak up and put an end to it," Darling told VICE. "Of course, I was scared. I knew that because of my choice, my dream of being a police officer could be gone forever, based on one decision."
Hornaday, who posted the cup, was seeking a response—but he said he was quickly overwhelmed by the volume of attention. "The intent was to generate awareness in hopes that the situation would be recognized by McDonald's and any involved party would be appropriately disciplined," Hornaday told VICE via email. "I anticipated an immediate response, which did occur… However, it grew larger and faster than any other social media post I have ever seen. The response was definitely not what was expected or wanted."
The use of social media to spread these food-contamination stories and the ensuing pro-cop sentiment does feel predictable, even inevitable; after all, surges of anti-cop sentiment and outrage over police brutality spread the same way.

This has been especially true since Darryl Wilson, a police officer in Ferguson, Missouri, shot and killed 18-year-old Michael Brown in 2014. As the outrage around Brown's death served as the catalyst for the Black Lives Matter movement, Blue Lives Matter formed in tandem, a funhouse mirror reflecting the anger and sense of persecution back at the Black community.
Supporters of Blue Lives Matter of course tend to gloss over a fundamental difference: Every single person working in law enforcement in the U.S. chose to enter the field, while literally no one chooses the race they are born into. The coverage these food-tampering stories get only serves to reinforce the idea that law enforcement officers constitute a special class of citizen—one that simultaneously protects the public and is in desperate need of protection from the public—both in the American consciousness and in their own.

"Our court systems in this country rely upon people taking an oath and telling the truth," Hornaday said. "That is what makes the law enforcement profession so sacred. To treat it like it is any other type of profession is a disservice to the public." (Perhaps the apparent prevalence of police perjury, or 'testilying'—when police officers lie on the stand to help convict people—might explain the doubt some people have about that oath.)
Darling, who is currently seeking employment outside the field of law enforcement, echoed Hornaday's reverence and cited the risk law enforcement officers take as the thing that sets them apart from the general population.

"Law enforcement officers are constantly expected to have 'thick skin,'" Darling told VICE. "But to say that [negative feedback] doesn't bother law enforcement would be foolish. For over five years, I put a uniform on every day for the sole purpose of serving something bigger than myself. When derogatory terms and phrases are used towards law enforcement, it is an attack on a profession, much like racist remarks made based on the color of skin."
These stories, it seems, express a siege mentality and a sense of righteousness more than anything else. They don't have to be literally true, because to the law enforcement officers who tell them and the people who share them, they feel true.
"There's this sense that we live in a society where there's a lot of conflict, that the police are at odds with the public," Best said. "So, this can become expressed in stories, and some of these can be hoaxes. Some of them may have no basis in anything… They're just a terrific story. And once it starts getting told, it gets repeated and repeated, because that's just 'the way things are.'"
The use of social media to spread these food-contamination stories and the ensuing pro-cop sentiment does feel predictable, even inevitable; after all, surges of anti-cop sentiment and outrage over police brutality spread the same way.
Corporations like McDonald's and Starbucks are, naturally, quick to capitulate to the narrative. What shrewd business would risk alienating law enforcement officials and the patriots who love them?

"McDonald's and our independent franchisees take deep pride in serving and supporting the law enforcement teams that protect and serve our communities," McDonald's director of security Rob Holm said in a statement to VICE. "Everyone who walks into a Starbucks should feel welcome and have a positive experience. In cases where that doesn't happen we work to apologize and address it. We have deep appreciation for law enforcement and the officers who keep our stores and communities safe," read a statement from Starbucks.
According to Bill Marler, a personal injury lawyer who specializes in foodborne illness and poisoning cases, it's worth noting that deliberate food tampering is extremely uncommon. "We've had hundreds of thousands of cases over the last 30 years," Marler told VICE. "We may have had 20, 25 intentional contamination cases we've looked at. It's super rare." He also said that while he found the law enforcement officers' food tampering allegations credible, the intentional contamination he's seen in civil court tends to be targeted at businesses rather than at an individual.
The Bakersfield, California, case is a rare example of food tampering allegations leading to an arrest and charges. But a complicated history may have contributed to the relative silence about it on social media. After Tatyana Hargrove's manager reported her to the Bakersfield Police Department (BPD), Hargrove and her coworkers were interrogated until one of them tearfully confessed to allegedly observing her spit in a hamburger, rub its bun on the ground, and at some point quip, "Black Lives Matter, fuck the pigs." In a police interrogation, Hargrove denied the allegations, admitting only that she dropped the bun by accident and didn't replace it, but maintained that she didn't spit on it, didn't know it was being served to a police officer, and didn't say "fuck the pigs." At a December 18 arraignment, Hargrove pleaded not guilty.
Local news outlets quickly picked up on the fact that Hargrove, the accused tamperer, had lost an excessive force lawsuit against BPD in October 2019. The suit stemmed from a 2017 incident in which then 19-year-old Hargrove alleged she was punched in the face and mauled by a police dog while officers pursued a Black, bald, machete-wielding man eight inches taller and 10 years older than she was at the time. It is unknown whether this history played a role in the department's decision not to take to social media.

It's notable how much quieter law enforcement agencies were in the aftermath of these incidents, once investigations wrapped up and public interest petered out, than they were when initially drawing the public's attention to them in outrage. The statements provided to VICE were markedly less verbose than the ones released directly on social media or laundered through sympathetic local sources. Hornaday and Darling were the only law enforcement officials willing to answer questions about any of these incidents at length, and then only over email.
The McChicken-loving corrections officer Powell did not respond to a request for comment, and the Marion County Sheriff's Office provided VICE with the same statement it previously released to the press, which concluded with: "We recognize that McDonald's is a valued civic partner, and any insinuation in private or in the media to the contrary is unfounded."
The Kern County Sheriff's Department declined to comment, as did the BPD, and the officer who ate the contaminated hamburger did not respond to a request for comment. The Kiefer Police Department declined to comment, and Johnny O'Mara did not respond to a request for comment. The NYPD declined to comment, and the man who picked up the phone at the Bon Appetit Deli said he was "just working" and didn't "know about that."
The Riverside Police Department sent VICE a three-sentence statement it had previously released: "We are aware of the 'cop with no coffee' incident that occurred in Riverside on 12/12/19, involving our Riverside County Sheriff deputies. We are in communication with Starbucks Corporate addressing the issue of deputies being denied service."
All these bland statements are a product of how the incentives run. Social media allows cops direct access to the public and a way to weaponize deep wells of public sympathy for them; local news outlets are quick to notice and pass on the bad things happening to their local departments, and national news outlets, eternally hungry for content to aggregate, slurp the shit up and beg for more. It's all keyed off outrage, and there's a lot more of that attached to an incendiary story about a cop being degraded than there is to a quiet admission that degradation isn't quite what happened. Don't expect any changes—as long as we readers continue to fall for it, anti-cop "violence" is virtually guaranteed to go viral.
Sign up for our newsletter to get the best of VICE delivered to your inbox daily.
Follow Katie Way on Twitter.

I Tried Living Off Food Waste Apps for a Week
This article originally appeared on VICE UK.You already know the world has a food waste problem. Jamie Oliver has made a big enough fuss of it, along with every Masterchef contestant who proudly makes a point of cooking tripe. And for good reason: Around a third of food produced globally is never eaten, meaning if…
This article originally appeared on VICE UK.
You already know the world has a food waste problem. Jamie Oliver has made a big enough fuss of it, along with every Masterchef contestant who proudly makes a point of cooking tripe. And for good reason: Around a third of food produced globally is never eaten, meaning if food waste were a country it would be the world's third largest emitter of greenhouse gases, behind the U.S. and China.
This isn't just an environmental issue, either: despite our massive surplus of food, an estimated 8.4 million people in the U.K. alone struggle to get enough to eat.
The problem is obvious; what's less clear is how we solve it. Like a lot of people, I've always been squeamish about out-of-date food and leftovers. I'd struggle to get on board with that tomato-tinged Tupperware you microwave every afternoon in the office kitchen, even though—ultimately, despite how violently it makes me retch—I know it's what I really should be doing.
However, as I literally just said, I really should: Project Drawdown's list of 100 solutions to tackle climate change found that cutting food waste is the third most immediate and impactful thing we can do to help battle global warming, behind using wind turbines and better managing refrigerants, and ahead of switching to a plant-rich diet.
So: It's about time I cut my bad habits—no more throwing stuff out the day it hits its best before date, or chucking a perfectly good plate of surplus food. For the next week I'm going to live entirely off meals that are past their best, destined for landfill, or handed out for free for whatever other reason that might be.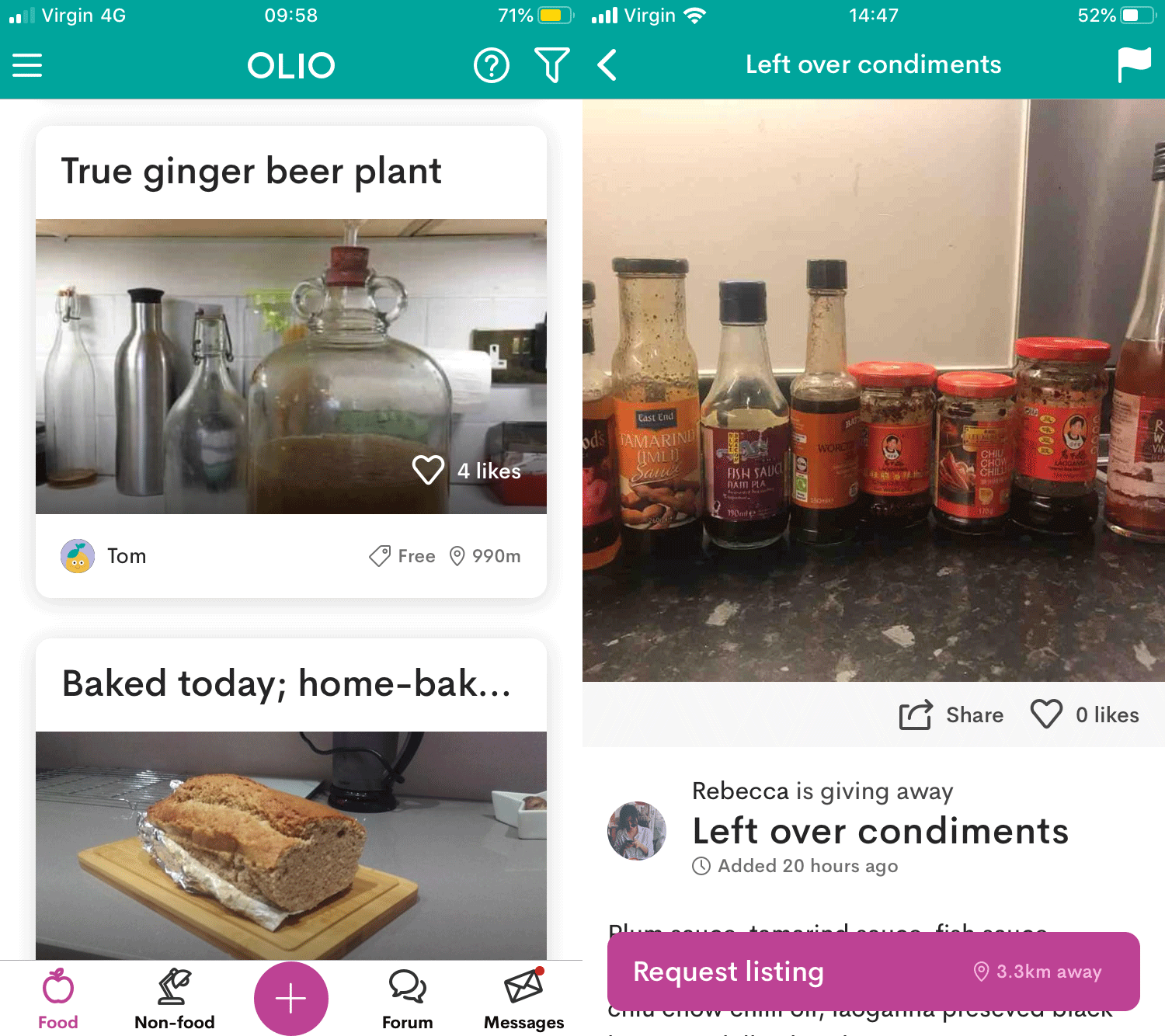 In recent years, a number of apps have cropped up aiming to tackle food waste, including Olio, which offers free listings of unwanted food from both companies and individuals, and Too Good to Go, which offers surplus food from shops and restaurants at reduced prices.
"Throwing food away is one of the world's dumbest problems," Jamie Crummie, Too Good to Go's cofounder, tells me. "In the U.K., we're throwing away 10 million tons of food each year, so it's a huge issue."
I start my week off by checking Olio, hoping to bag some free stuff. While a ginger beer plant and some bottles of mustard are tempting, neither will provide the sustenance I need to see me through the next few days. So I try Too Good to Go instead.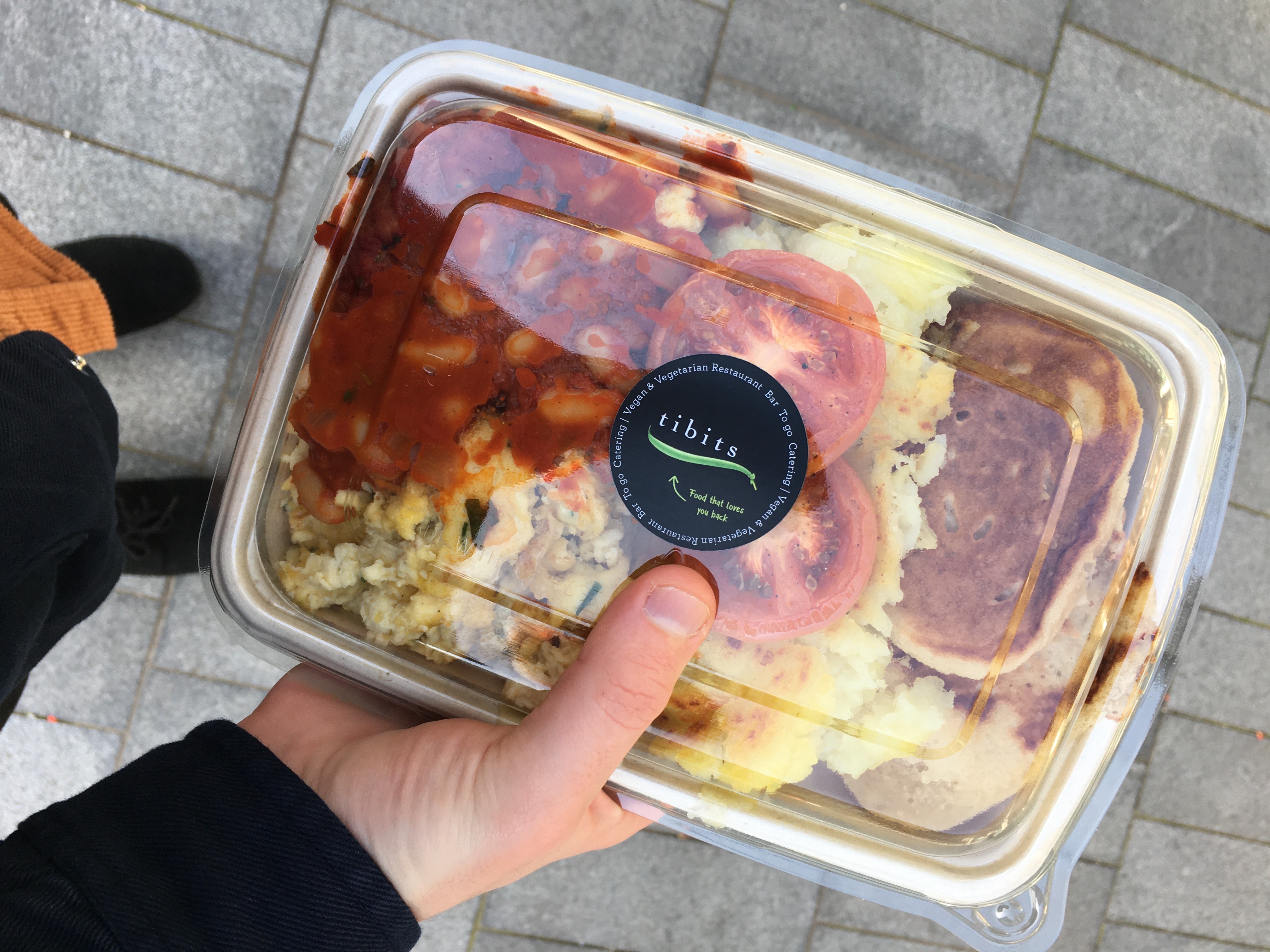 I get a cheap breakfast from veggie restaurant Tibits near Waterloo. The portion is massive for £3 [$3.90]—beans, egg, potato, and some dry discs of bread, which are less good, but still edible. Next, I head to the cafe in Tate Modern to eat while I check the apps for more food, but there's still not much about on Olio except for some half empty bottles of condiments.
Starting this week, I thought I'd be spending the week strolling around the leafier parts of London, picking up unwanted sourdough from middle class moms, but it's not as straightforward as I'd planned. Despite checking Olio every few minutes I don't find anything worth taking for free for the rest of the day, so when I get hungry again I spend £2.50 [$3.25] on a couple of leftover slices of pizza from Voodoo Rays. You can get alright frozen pizzas for around a dollar in most supermarkets, so it doesn't exactly feel like a great deal. The slices are cold, but they're enough to tide me over—and they would have ended up in the trash if I didn't rescue them.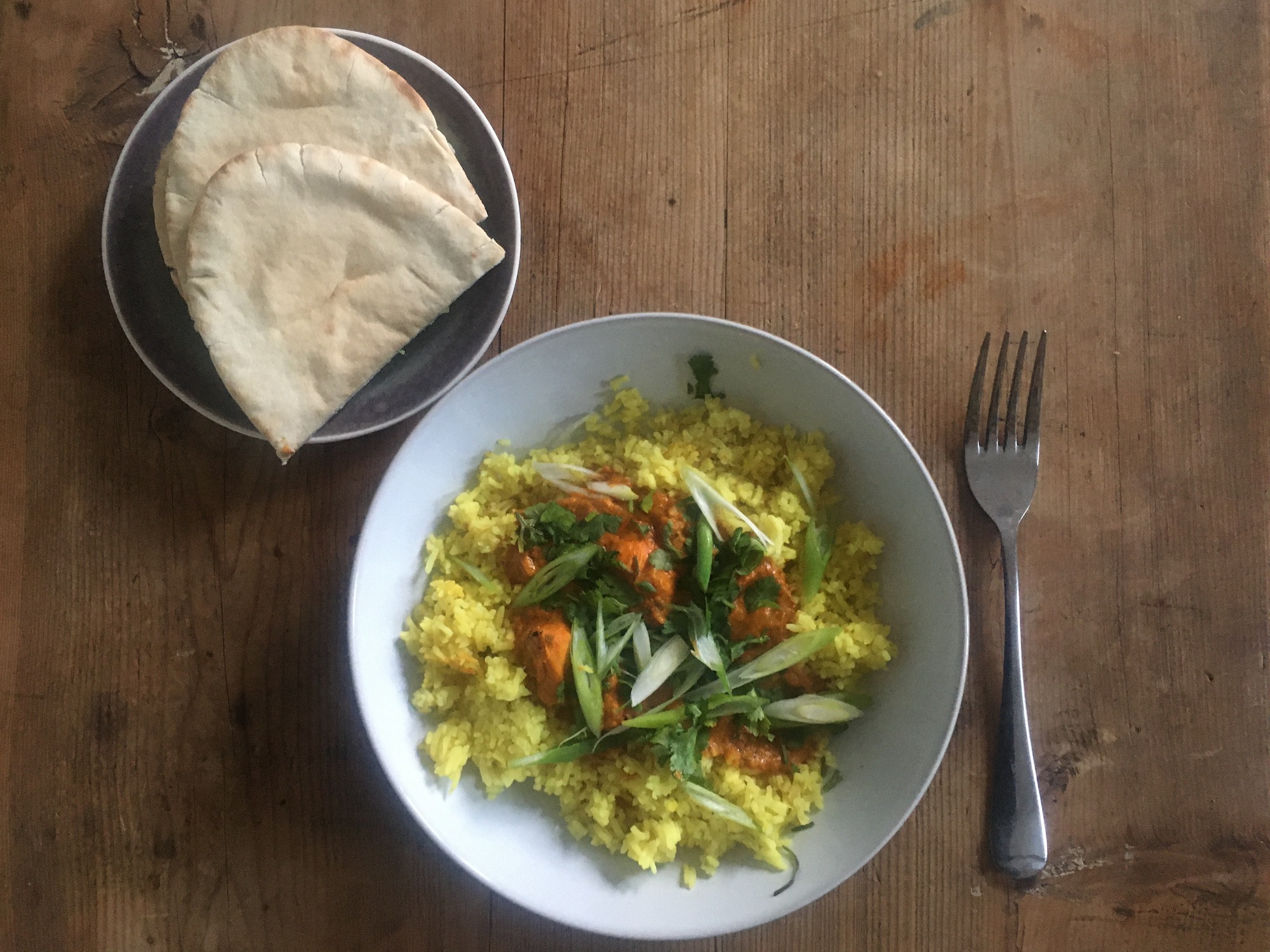 The next day I finally make headway in my search for free stuff. A woman called Eve is offering an out-of-date curry ready meal on Olio. Earlier in the day I also scored some free pita bread, which works well as a makeshift naan. I add some spring onions and coriander from my fridge, deciding there's no point saving other people's food if I waste my own. Once I get over my fear of food poisoning it's a decent meal, and the first properly hot food I eat for a couple of days.
Zoe Morrison, sustainability blogger and author of Eco Thrifty Living, says she used Olio when it first came out a few years ago, and managed to grab about a year's worth of crackers, pesto, and other bits that were left over from a food festival. Before using the app, she also tried to set up her own food waste group on Facebook, which was met with limited success.
"I found that people didn't feel that comfortable taking food from strangers, especially if it was partly used," she says. "They were happier to take food from people they knew."
I get a similar reaction from friends when I tell them what I'm doing, but it's not like I'm taking food from stranger's plates—everything so far has been sealed. Zoe says that although her food waste group never really took off, her friends now share in a more informal way. "Setting up the group raised the point about food sharing," she says. "Once I'd done that, we didn't need the group, because they would just message me, or I would message them asking if they wanted something."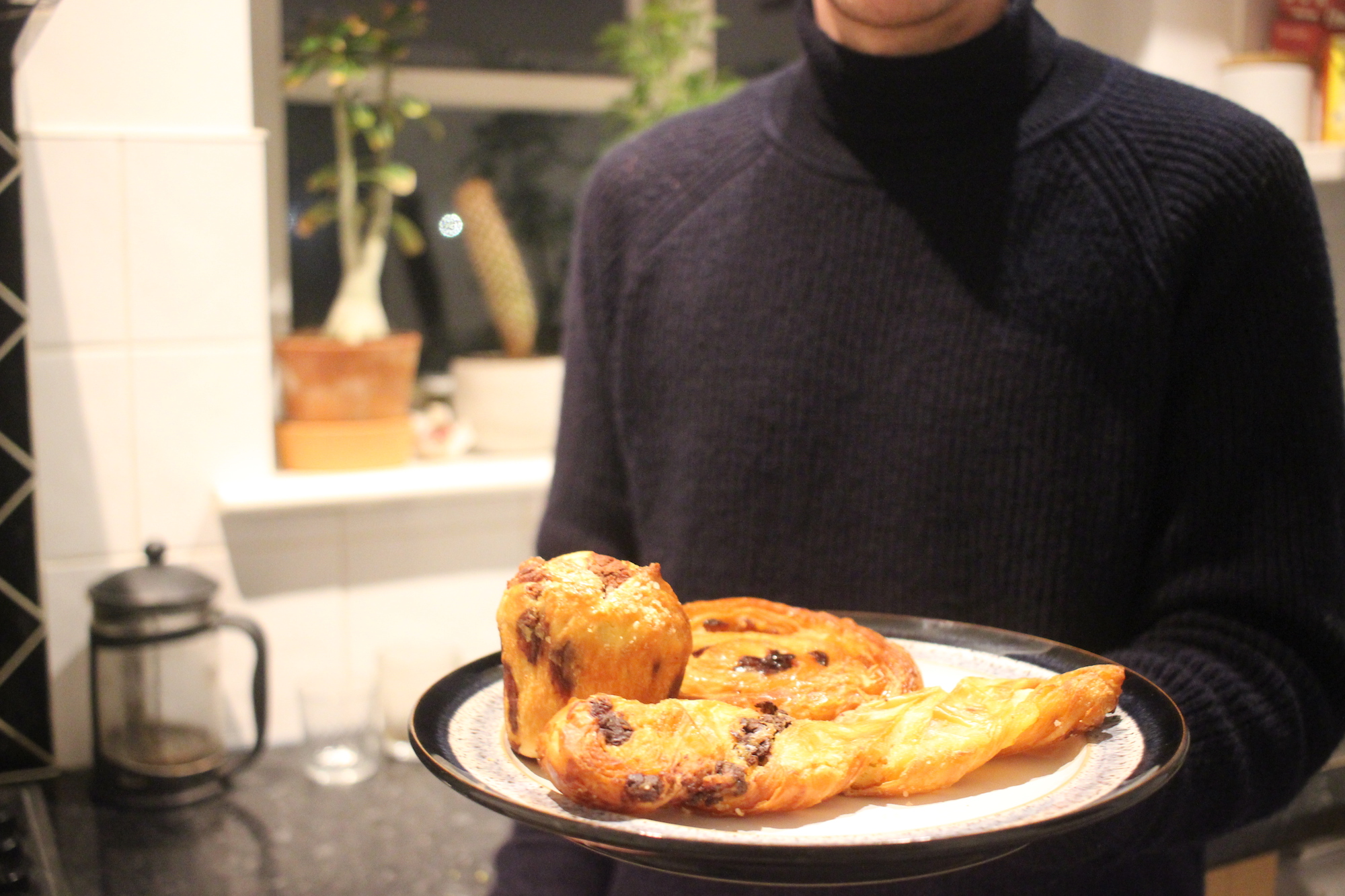 As well as used bottles of sauce, Olio is mostly full of listings for surplus from bakeries and London's 240-odd Pret a Mangers. This city absolutely loves overpriced sandwiches, and I'm more than happy to capitalize on that by taking the leftover ones Pret has deemed unsellable. For a few days this is alright—who doesn't want to eat a cheese baguette and plate of pastries for dinner? But after a while I start feeling the need for some proper food.
Although it's mostly full of restaurants and caterers, Too Good to Go has some listings for groceries. The only big British supermarket on the app is Morrisons, and each store only has a few £3 [$3.90] "magic bags," which consist of around £10 [$13] worth of fruit, veggies, and baked goods, on offer each day. I fail to get one the first couple of times I try, but Jamie lets me in on a secret: the listings go live at 6:15 p.m. every day. I refresh the app at that time and manage to reserve a bag of unwanted and out-of-date groceries.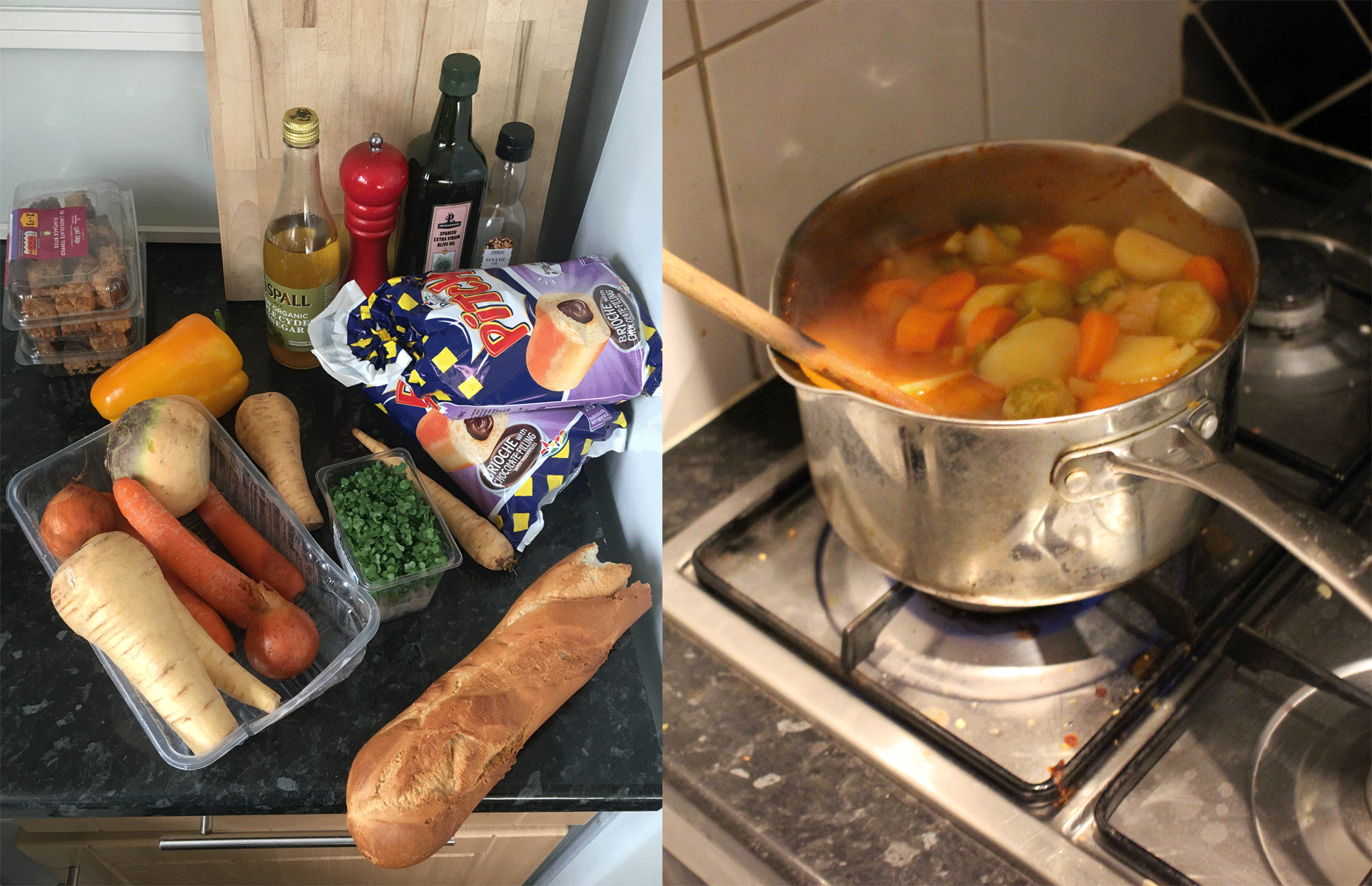 The box consists of a bag of potatoes, sprouts, parsnips, peppers, cress, a stale baguette, 12 chocolate brioche and some flapjack bites that are all past their best but still edible. It's enough food to see me through the last days of the week if I just boil the veg into a big stew.
So my zero waste week is fairly successful—London is full of surplus and unwanted food, if you have time on your hands to find it and you're not too fussy about what you take. I spent £10 [$13] on food over the week and another £1.50 [$1.95] on a bus fare to pick up some pastries on a day when I got fairly desperate for something to eat.
That said, being in London, and having all that time on my hands, put me at a considerable advantage. Changing my home zip code on each app to random spots across the UK, there was a huge variety in the both the number of users near me and the availability of food. So can locally-focused food waste apps really make that much of an impact on such a massive global issue?
Food sustainability activist Josephine Liang thinks so. A couple of years ago she spent three months eating only food that was destined for the landfill, using a combination of food waste apps and dumpster diving behind supermarkets, which she says opened her eyes to the scale of waste: "You get all sorts—sometimes they just throw out excess stock, rows of biscuits that aren't even out of date."
Josephine says food waste is still largely invisible, despite getting more attention in recent years. A lot of food is squandered before it even gets close to consumers—with fruit and veg often discarded further down the chain because of requirements about quality and appearance.
While apps like Olio have little direct impact on this, Josephine says they're a really good way of generating awareness and getting people to engage with the issue. "It's hard to get companies to make fundamental change unless it benefits them, or unless consumers demand it," she tells me. "So it might not be a lot—it might just be a novelty for people to do—but planting the idea in their head is what will drive the food waste movement ahead."
Follow Hayden Vernon on Twitter.