La estrategia detrás del iPhone barato de Apple es realmente inteligente – Merca2.0
https://www.merca20.com/la-estrategia-detras-del-iphone-barato-de-apple-es-realmente-inteligente/

No te pierdas el congreso más importante de marketing digital en América Latina. 20 y 21 de noviembre CDMX. Compra tu boleto aquí

El iPhone es uno de los productos tecnológico más populares en el mercado, gracias a la historia con que cuenta este dispositivo móvil.

La experiencia de marca a través el diseño del iPhone ha sido la mayor cualidad con que Apple sigue apostando por este producto.

Uno de los elementos que más han ayudado a Apple ha sido la integración de su marca a través de un ecosistema cada vez más relevante para las marcas.
Las marcas tecnológicas están desarrollando estrategias comerciales que den supervivencia a sus negocios, como parte de una ecuación en la innovar también es importante, pues en ello radica el diferencial entre la competencia tecnológica, sin embargo, como cualquier negocio, si no se tiene un esquema comercial sano, estas marcas se meten en problemas.
Apple está por lanzar un iPhone barato en 2020 y la apuesta no es solo para generar un mayor volumen de respuesta por parte de los consumidores, por el contrario, es una estrategia que busca consolidar el rendimiento de su negocio, que es el de aprovechar los recursos con los que actualmente cuenta.
La genial estrategia del nuevo iPhone barato de Apple
La genial estrategia del nuevo iPhone SE2 va más allá del precio y por el contrario, es un apuesta comercial que valora lo importante que es para una marca, aprovechar los recursos con lo que actualmente cuenta y trabajar la promoción con base en estos elementos.
La estrategia de Apple para su nuevo SE2 será la de incluir el mismo procesador que usó en el iPhone 11, elemento que hace aún más atractivo su costo estimado de 399 dólares y tendrá el mismo diseño que el iPhone 8, todo esto según el analista de TF Securities Ming-Chi Kuo, quien ha advertido que ahí radica la oportunidad para la marca de poder usar el stock de piezas que fabricó para sus anteriores smartphones.
El mercado de smartphones
Los smartphones son cada vez más una opción tecnológica, que han podido concentrar los mayores esfuerzos para que a través de la innovación, se logren mejores pautas de comunicación y consumo.
Esto lo hemos visto con una serie de productos como los que han buscado mantenerse relevantes, a través de responder a las necesidades del mercado.
Dentro de estas necesidades encontramos cada vez más nuevos elementos que han podido establecer acciones como las enfocadas en poder integrar de mejor forma la labor que llevan a cabo los profesionistas, que recurren a esta tecnología y que ha dado paso a fenómenos como el marketing de ubicación, por ejemplo.
La movilidad y el mercado detrás
Detrás de la movilidad se han establecido pautas muy importantes en cuanto a generación de acciones, a través de las cuales se desarrollan elementos de gran valor en el mercado y para poder llegar a avances, la mercadotecnia se ha valido de la tecnología para desarrollar putas de investigación y trabajo fundamentales.
Hay estimados de Cisco Systems en los que se advierte que el tráfico mundial de Data a través de dispositivos móviles alcanzará los más e 28 excabytes por mes, mientras que estimados de Statcounter advierten que durante 2018 el 52 por ciento del tráfico web provino de dispositivos móviles.
El mobile marketing
La movilidad ha sido la madre de la innovación que en últimas fechas hemos visto dentro del mercado de smartphones, donde cada vez más se apuesta a integrar al consumidor a través de perfiles digitales, mediante los cuales se han podido establecer enormes mercados por la l cantidad de usuarios que agrupan y lo fácil que ha resultado apostar por la integración tecnológica, sin importar si se trata de gamas muy costosas.
Ante estos acomodos que comienzan a registrarse en el mercado de mobile marketing, se ha vuelto sumamente relevante comprender el rol que deben de jugar las diversas actividades que en marketing lo mismo convierten al smartphone en la segunda puerta de entrada a una tienda o en una máquina generadora de contenido.
A detalle.
China es un referente tecnológico y uno de los mayores mercados de consumo, por lo que es relevante ver que solo tres marcas de smartphones dominan esta inustria: Huawei, Oppo y Xiaomi son las firmas líderes en smartphones dentro de este país.
Esta misma firma analizó cuáles eran las marcas más dominantes en el mundo y descubrió que Samsung, Huawei y Apple, en ese orden, dominaban el mercado de smartphones hasta el segundo trimestre de 2019.
StatCounter advierte que dentro de México, las marcas de smartphones preferidas por los consumidores nacionales son Samsung, Motorola, Apple y Huawei, esto durante marzo de 2019.
Fans Celebrate #HOV50 and Share Favorite Jay Z Lyrics on Music Mogul's 50th Birthday
In honor of Jay-Z's 50th birthday, fans all across the globe flooded social media with warm messages of love and support.The hashtag #HOV50 began to trend early in the morning on Twitter on Wednesday as a result of the many well wishes from the longtime rappers' fans.Fans opened up on some of their most memorable…
In honor of Jay-Z's 50th birthday, fans all across the globe flooded social media with warm messages of love and support.
The hashtag #HOV50 began to trend early in the morning on Twitter on Wednesday as a result of the many well wishes from the longtime rappers' fans.
Fans opened up on some of their most memorable moments involving the music mogul—whose birth name is Shawn Carter but is commonly referred to by fans as Hov, short for Hova. They also posted messages of the many ways Jay-Z has inspired them, including with hundreds of photos, gifs and video clips of him in action.
Many people used the Brooklyn native's birthday to reflect on his work over the last three decades, listing their favorite albums, songs and guest features from the rapper.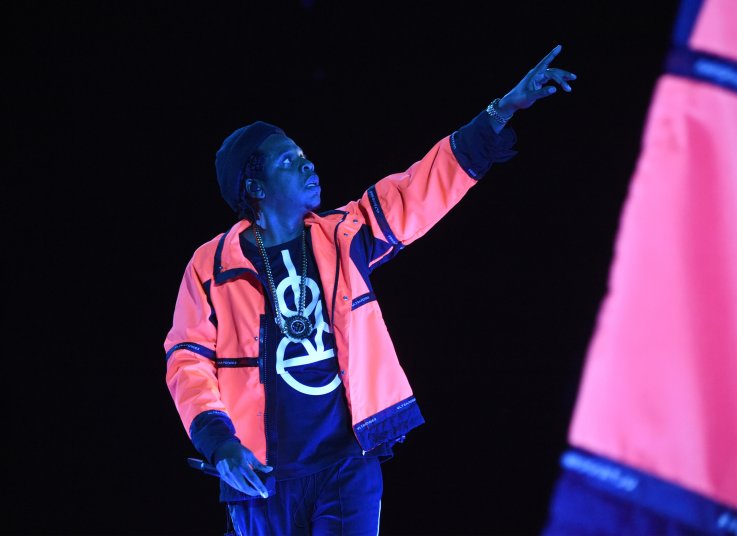 Album rankings weren't the only way fans recognized Jay-Z on his 50th birthday. Several people took to Twitter to commemorate the award-winning lyricist by sharing their favorite verses ever rapped by him. Classic Jay-Z lines from chart-toppers like "Hard Knock Life," "Song Cry," "Say Hello," and his guest feature on Kanye West's "Diamonds From Sierra Leone" were spotted on Twitter timelines.
Meanwhile, some fans said they'd celebrate Jay-Z's birthday by listening to his lengthy discography all day long.
Jay-Z made listening to his catalog a whole lot easier for some of his fans when he re-released his entire catalog of music again on Spotify.
The Roc Nation founder removed much of his work from the platform in April 2017 to the dismay of many loyal listeners just ahead of the release of his latest album, 4:44.
At the time the move seemed like a ploy to get fans to subscribe to TIDAL, the music streaming service he owns and operates. Now, Spotify users will get to listen to all of Jay-Z's albums and songs ranging from his 1996 debut Reasonable Doubt and so-called career retirement project The Black Album in 2003, his 2011 Watch the Throne collaboration album with West and several other staples.
Since he first emerged on the rap scene in the 1990s, fans have admired and praised Jay-Z for his many punchlines, thought-provoking lyrics and masterful storytelling. A natural wordsmith, he has kept listeners fascinated and moved with his ability to flow over a beat with grace and pizzaz—not to mention the fact that he creates hit after hit without writing his lyrics down.
It's a long-known fact Jay-Z doesn't write his albums but rather hits the studio with a few words already in mind before he jumps on a track. That habit sparked a number of younger singers and rappers following in his footsteps by not pre-writing lyrics to their songs.
"It just felt better [the way I do it now]," he said during a 2007 interview with MTV News. "In my mind, I said, 'OK, I'm gonna sit down and I'm [going to] just write it and really do this thing a certain way.' But your natural process is your process. It's difficult to go back to what you was doing when you was 15, 16 years old. My process is different now. It sounds great on paper, like 'I'm [going to] sit down, I'm going to write the entire album like I did before.' But once you get back in the studio and you've been doing this process for years and years now, so it just felt natural to do it the way I've been doing it: no paper, no pen, just listen to the music."
See more of how fans are celebrating Jay-Z's birthday below.