Natural treatments and diet for fibroids
Uterine fibroids are common, noncancerous growths that develop in the uterus. Some people use natural treatments and dietary changes to relieve the symptoms associated with fibroids. But do these treatments work?Not all uterine fibroids cause symptoms, and they do not always need treatment. Fibroids can shrink and disappear, especially after menopause. A person may have…
Uterine fibroids are common, noncancerous growths that develop in the uterus. Some people use natural treatments and dietary changes to relieve the symptoms associated with fibroids. But do these treatments work?
Not all uterine fibroids cause symptoms, and they do not always need treatment. Fibroids can shrink and disappear, especially after menopause. A person may have fibroids without knowing it.
Doctors can recommend some medical treatments for fibroids, but some people may also try dietary methods and herbal medicines to relieve symptoms. However, there is very little research to say that they are effective.
In this article, we explore the evidence behind natural treatments for fibroids, including herbal remedies, and dietary and lifestyle changes.
What are fibroids?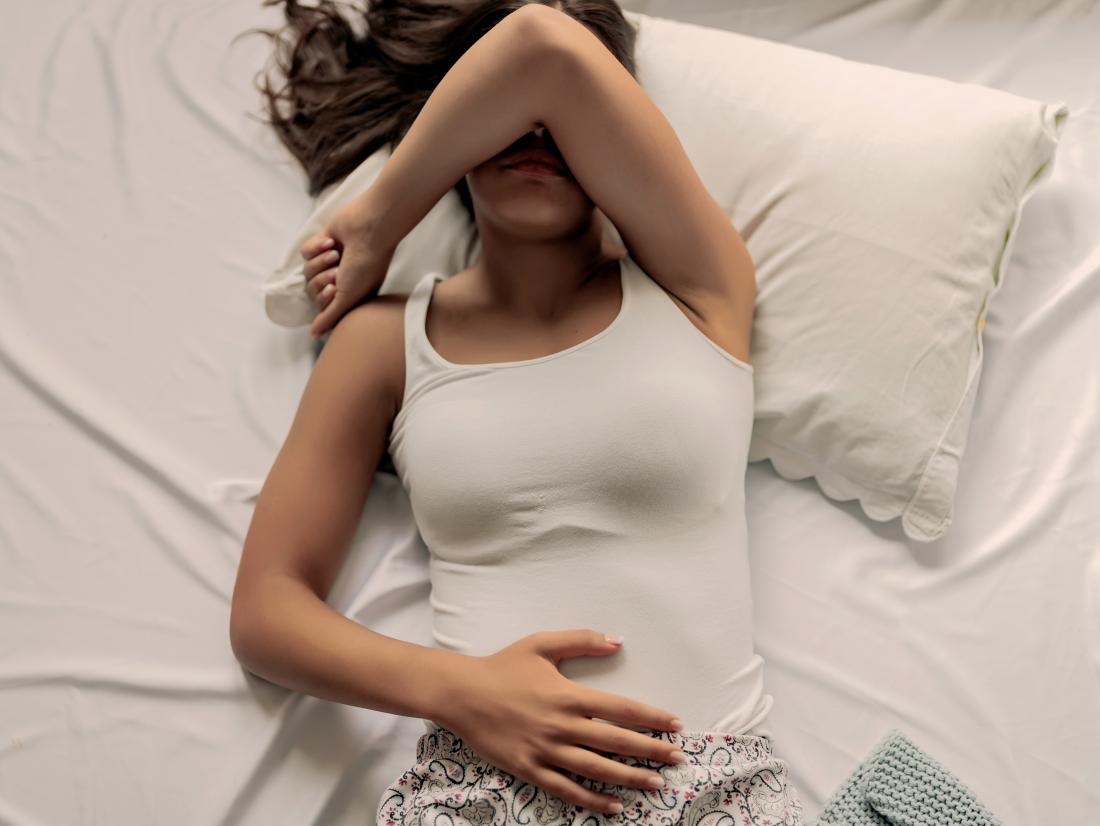 A person with fibroids may experience heavy periods.
Fibroids, also called leiomyomas, are noncancerous tumors that sometimes develop in the uterus. They are the most common noncancerous gynecological tumor in premenopausal people. Estimates vary, but according to the Office on Women's Health, fibroids may affect between 20 and 80% of people before age 50.
Around 1 in 3 females with fibroids may experience symptoms that can include:
heavy or painful periods
abdominal or lower back pain
frequent urination
dyspareunia, or pain during sex
Can natural treatments help with fibroids?
In many cases, fibroids shrink and disappear without treatment. However, if a person experiences bothersome or severe symptoms, a doctor may recommend treatment, which includes birth control pills or surgery.
Some medications can shrink fibroids, but they often result in adverse side effects. For this reason, doctors typically only prescribe drugs for short term use or in preparation for surgery.
However, there have been few studies to date that confirm whether changes in diet or using herbal remedies can help treat fibroids or prevent someone from developing them.
One 2016 article investigated the possible role of diet and complementary or alternative medicine in treating fibroids. It concluded that although some foods might reduce the risk of developing fibroids, others might increase the risk. It was also unable to confirm whether herbal medicines can help.
Of the studies that do exist, most cite research from cell cultures or animals. This means that researchers do not know whether the remedies will have the same effects in humans.
Scientists must carry out more research on humans before medical professionals can recommend any complementary medicine or other natural remedies for the management or treatment of fibroids.
However, some experts believe that some lifestyle changes can enhance a person's quality of life and help improve some of the symptoms associated with fibroids, such as painful periods and depression. These changes include eating a healthful diet, getting regular exercise, and using relaxation techniques.
The following sections look in more detail at some of the natural treatments that may help a person with fibroids.
Dietary changes
The following sections look at dietary changes that might help with fibroids:
Meat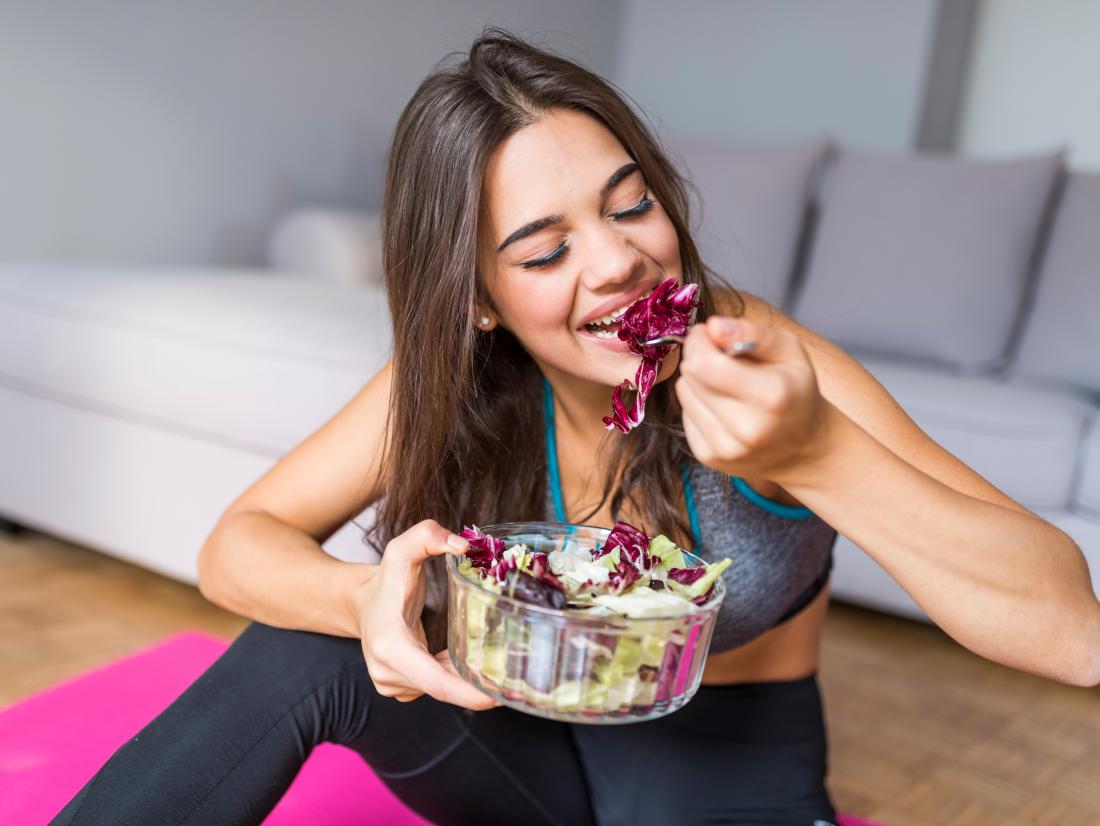 A plant based diet may help reduce symptoms of fibroids.
Stay in the know. Get our free daily newsletter
You've got questions. We've got answers. Expert, evidence-based advice delivered straight to your inbox to help you take control of your health
Your privacy is important to us.
Some research suggests that people who eat a diet high in red meat and high energy-dense foods, which are foods that contain lots of calories, fat, and sugar, may be more likely to develop fibroids. Replacing red meat (beef, ham, or lamb) with white meat (chicken or turkey) may help.
In general, replacing red meats with white meats or plant based sources of protein, such as beans, could be a good move for health. According to the American Heart Association, meat contains high levels of saturated and trans fats, which can raise cholesterol and worsen heart disease.
Vitamins
The results of a study from 2011, which looked at over 22,583 premenopausal females, suggested that people who ate more fruit and more animal-derived vitamin A were less likely to have uterine fibroids. They did not find links with vitamins C or E, folate, or carotenoids.
Animal sources of vitamin A include dairy products, fish, and meat.
Foods that contain certain vitamins may protect against fibroids and also increase the healthfulness of a person's diet. These include:
oily fish, such as salmon, mackerel, and tuna
foods rich in flavonoids, including berries
green vegetables, such as broccoli, spinach, and lettuce
citrus fruits, such as lemons and limes
soya products
broad beans
If a person is unable to get enough of a particular vitamin through their diet, they can consider taking vitamin supplements.
Alcohol and caffeine
A study from 2004 looked at the link between fibroids and alcohol and caffeine in black females in the United States. The results suggested that fibroids had links with alcohol, particularly beer, but they did not find an association with caffeine.
When considering these studies, it is important to note that just because there is a link between factors (correlation), it does not mean that one causes the other (causality). For example, if a specific diet has associations with a higher likelihood of fibroids, it does not mean that people who follow that diet will develop fibroids.
Herbal remedies
Small scale research studies have looked at the effects of various herbal remedies for fibroids, such as green tea and Chinese medicine. More research is needed before doctors recommend these treatments. The following sections discuss current research.
Green tea
Green tea contains chemicals called flavanols, which are antioxidants. Antioxidants help to reduce cell damage in the body by reducing oxidative stress. Oxidative stress is a significant cause of disease.
A 2013 study looked at the effects of taking green tea extract (epigallocatechin gallate) on 33 females with one or more fibroids. The participants took either 800 milligrams (mg) of green tea or a placebo for 4 months. The authors report that those who took green tea extract had less severe fibroids symptoms and that their fibroids became smaller.
Drinking green tea may, therefore, help with fibroids. However, more research is needed before healthcare professionals recommend green tea for fibroids.
Resveratrol
Resveratrol is a chemical that plants produce when they are under environmental stress and infection. Natural foods that contain resveratrol include blueberries, mulberries, raspberries, and grapes.
Research suggests that resveratrol may stop cell growth and reproduction of uterine fibroid cells. However, these studies looked at the effects of resveratrol on cell cultures. Researchers do not know if eating foods that contain resveratrol will affect fibroids.
Curcumin
Curcumin is one of the active ingredients in turmeric. It has antioxidant, anti-inflammatory, and antibacterial properties.
Some research suggests that curcumin can destroy fibrotic cells or stop them from reproducing. Again, cell cultures form the bases of these studies, and researchers need to look at its effects on humans to know whether it will be useful.
Lifestyle changes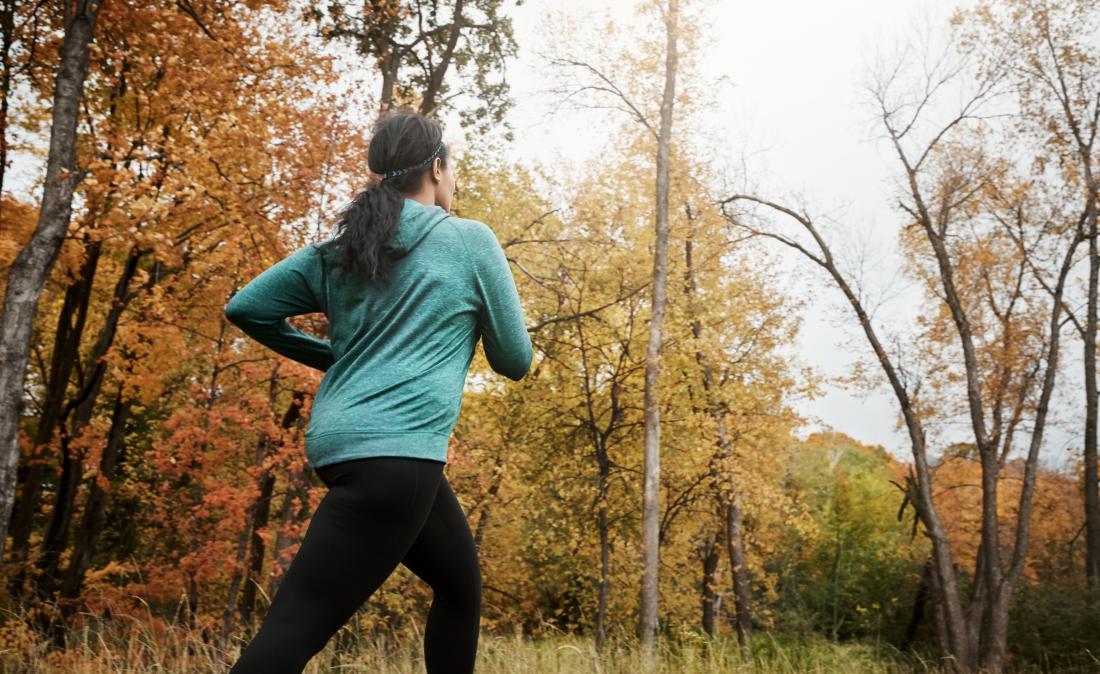 Regular exercise may improve symptoms.
Some people may find that lifestyle factors can help improve symptoms associated with fibroids, such as painful or heavy periods and depression. These include:
regular exercise
breathing exercises
eating a healthful diet
tai-chi
Fibroids are more common in people who are overweight or obese, so maintaining a healthful weight can also protect against fibroids. Getting regular exercise and eating a healthful diet are very effective ways to lose weight.
Medical treatments
Not all fibroids require treatment. If they produce symptoms, a doctor may recommend a range of treatments depending on how severe the symptoms are.
Birth control pills and progesterone-like treatments — such as Depo-Provera injections or intrauterine devices (IUDs) — can help control heavy menstrual bleeding. However, they do not shrink the fibroids.
Doctors can prescribe drugs that shrink fibroids, called gonadotropin-releasing hormone agonists (GnRHa), such as Lupron. However, they can have severe side effects, such as bone loss, so people usually take them for just 6 months. When they stop taking them, the fibroids often grow back.
A range of surgical options can also help treat fibroids. People can talk to their doctor about the best treatment options for them.
Summary
Uterine fibroids are common noncancerous growths in the uterus. Although they may not be cancerous, they can affect a person's quality of life.
Doctors can prescribe hormonal therapy and other medications to treat the symptoms of uterine fibroids, though their effectiveness is limited. Surgery is the most effective treatment.
Although some research suggests that diet and herbal remedies can help with fibroids, many studies in this area not methodologically strong or not carried out in humans. Further research is necessary to confirm these findings, and people should speak with their doctor about any dietary changes they can make to improve their health.
Warren's New Medicare for All Plan Is an Extremely Clever Dodge
Two weeks after Elizabeth Warren released her much-ballyhooed and Warrenishly detailed plan for how she would pay for Medicare for All, the 2020 contender released another proposal on Friday about how, as president, she would transition the country to a system under which the government provides health insurance to everyone. Like the other plans from…
Two weeks after Elizabeth Warren released her much-ballyhooed and Warrenishly detailed plan for how she would pay for Medicare for All, the 2020 contender released another proposal on Friday about how, as president, she would transition the country to a system under which the government provides health insurance to everyone. Like the other plans from the "I have a plan for that" candidate, this document was long on details and full of proposals likely to have broad support on the left. But when you zoom out from those details, it amounts to an admission that Warren won't push for Medicare for All, and instead will embrace a more cautious path to expanding insurance coverage.

One important thing about this plan is that it is less about what Warren wants the U.S. healthcare system to look like and more about specifically what she would do as president, a level of detail that is often elided in Democratic debates. She says that she will reverse Donald Trump's executive actions that have weakened the Affordable Care Act and use the powers of the presidency to lower drug prices by cracking down on the pharmaceutical industry. She also wants the government to manufacture generic medications, and severely limit the lobbying power of Big Pharma.
But the big question facing 2020 Democratic candidates isn't about those kinds of policies, but how hard they would push for a government-provided health insurance system, a progressive goal since the days of FDR. Warren has said she favors Medicare for All, a position that has become controversial as debate moderators and her opponents have pressed her to admit such a massive expansion of government spending would require a tax increase. In this plan, she tweaks her stance somewhat: The bill she'll focus on early in her administration would be a "Medicare for All Option."
That last word matters a lot. Medicare for All is sometimes a somewhat vague phrase, but generally it means putting everyone on a single government-run health insurance system, abolishing private insurance. Warren's Medicare for All Option wouldn't be that disruptive. Instead of forcing everyone to buy insurance from the government, Warren would expand Medicare benefits and extend coverage to everyone younger than 18 and those making up to 200 percent of the poverty level. People who earn more than that and who are uninsured would pay premiums capped at 5 percent of their incomes.
By providing government insurance to those who want it, rather than requiring everyone to have it, this proposal seems akin to the "public option" systems favored by candidates like Joe Biden and Pete Buttigieg, though as the New York Times noted, Warren's slate of benefits is more generous than theirs. On Friday, the Buttigieg campaign attacked Warren's plan as an effort to "paper over" Warren's plan to "force 150 million people off their private insurance."
Warren says this isn't the end goal of her healthcare policy. "No later than my third year in office," she writes, she will push for legislation moving the country into true Medicare for All, wiping out private insurance for good. Many progressives have praised this plan, including Pramila Jayapal, the Democrat who is the chief sponsor of the House's Medicare for All bill. But the assurance that Warren will eventually get to Medicare for All wasn't enough for her critics on the left, who saw this as a capitulation. If you aren't willing to fight for full Medicare for All from day one of your presidency, they argue, you have no chance of getting it.
If Warren's plan is a dodge, it's also an extremely logical piece of political strategy. She claims that unlike Medicare for All, she could pass her bill through a Senate process known as "reconciliation," meaning it would require 50 votes, not 60. Furthermore, Warren supporters could argue, it's extremely unlikely that centrist Democrats like West Virginia's Joe Manchin and Arizona's Kyrsten Sinema would vote for Medicare for All—meaning you might not even have 50 votes for M4A—but they might vote for a slightly less radical option.
But where this pragmatism falls apart is the idea that Warren would get to Medicare for All by year three of her term. As many people have pointed out, most presidents lose seats in Congress during midterm elections and struggle to pass big pieces of legislation late in their terms as a result. A candidate saying she'll fight for Medicare for All in 2023 rather than 2021 sounds like your parents promising to get you a puppy two birthdays from now—in other words, just putting off a tough decision.
Not that there's anything wrong with that. Warren's position on healthcare is still far more ambitious than anything contemplated by the Obama administration, and she's previously said that her highest priority will be fighting political corruption (in other words, not healthcare). A President Bernie Sanders might launch a contentious, uphill battle to try to ram through Medicare for All, but a President Warren likely will not. If that wasn't obvious before this latest plan, it's clear now.
Sign up for our newsletter to get the best of VICE delivered to your inbox daily.
Follow Harry Cheadle on Twitter.
Ditch Your Phone Habits, Not Your Friendships
The label "Silicon Valley trend" is a pretty good indicator that something is going to be goofy as hell, weirdly extreme, kind of dangerous, or a heady combination of the three. Dopamine fasting is an SV-home-brewed "biohack" where people do and consume nothing for anywhere from 24 hours to a week, with the misguided aim…
The label "Silicon Valley trend" is a pretty good indicator that something is going to be goofy as hell, weirdly extreme, kind of dangerous, or a heady combination of the three. Dopamine fasting is an SV-home-brewed "biohack" where people do and consume nothing for anywhere from 24 hours to a week, with the misguided aim of "resetting" some kind of neurochemical imbalance (per VICE's coverage, this is not really how any of this works). . But because the "fast" mostly focuses on things like technology, media consumption, substance use, and social behaviors like spending time with friends, talking to other people, or having sex, it isn't quite as ill-advised and unhealthy as other, more restrictive tech-bro fasting practices can be. (Think: Twitter CEO Jack Dorsey's infamous "3 day water fast.") That doesn't mean it's without flaws of its own. As VICE previously reported, "making you feel good" isn't the sole function of dopamine, and dopamine isn't the only neurotransmitter that produces, dare I say, posi vibes. And it turns out dopamine fasting is based on a fundamental misconception about the value of social interaction that could stop fast participants from gleaning any real benefits.
According to scientists who spoke with Psych Central, a mental health website run by mental health professionals, the kind of social isolation that dopamine fasting entails could actually be detrimental to mental health. Kim Hellmans, a neuroscience researcher and professor at Carleton University, told Psych Central that interacting with other people, especially people you actually like, is actually good for you. "Humans have evolved as a highly social species, and as such, loneliness and very little social stimulation can be coded in the nervous system as a threat — since loneliness is one of the most potent stressors," Hellmans said to Psych Central.
Yes, another earth-shattering dispatch from Big Science: Spending time with people you like is literally good for you. Studies have shown that social support from family, friends, and romantic partners has a wide range of benefits, like decreased stress levels, increased happiness, improvements in cardiovascular health, and boosts in the effectiveness of other healthy activities, like exercising regularly. Meanwhile, loneliness is on the rise, so much so that experts are working on creative solutions like meal-sharing to coax people away from their solitary habits. That's because social isolation is absolutely a trend worth combatting: One study that found loneliness rivals smoking cigarettes when it comes to increasing mortality risk, and being lonely is way less fun than smoking cigarettes.
The element of dopamine fasting that researchers believe does have merit is the part where fasters disengage with technology. "We could all serve to 'unplug' every once in a while," Hellemans said, but with a caveat: "To attribute any perceived benefits to reduced dopamine levels is an over-simplification and misrepresentation of the complexity of the nervous system." Of course, the benefits of unplugging aren't breaking news, either.
So: Meeting up with a friend, ditching your phones, and going for a walk outside while you have a meaningful conversation about life, love, and the ugly wedding dresses of mutual acquaintances? Awesome for your mental and physical well-being. Declining hangout invitations because you need to stay indoors, write a list of goals, and focus on not masturbating in pursuit of some questionable mental health benefits? Not so much. I think you know what to do with that information.
Sign up for our newsletter to get the best of VICE delivered to your inbox daily.
Follow Katie Way on Twitter.
Imagine Being Kicked off Your Health Insurance Two Months After Giving Birth
When Madavia Johnson gave birth to Donald Ray Dowless III last year, she was hit by a case of severe postpartum anxiety. She was scared to carry her son downstairs or drive him in a car. She couldn't manage to continue law school―and could hardly leave the house―because she didn't trust anyone to watch him.…
When Madavia Johnson gave birth to Donald Ray Dowless III last year, she was hit by a case of severe postpartum anxiety.
She was scared to carry her son downstairs or drive him in a car. She couldn't manage to continue law school―and could hardly leave the house―because she didn't trust anyone to watch him. Her weight dropped from 140 to 115 pounds.
"It was very stressful for me mentally," said Johnson, now 29, who lives in Clayton, North Carolina. And she found it hard to secure medical assistance because her Medicaid coverage ran out just two months after her son's birth. Public health advocates are pushing to change that.
The difficulties Johnson faced contribute to the United States' dismal record on maternal and child health. The U.S. is one of only three countries where maternal deaths are on the rise, joining Sudan and Afghanistan, according to the Alliance for Innovation on Maternal Health, a program of the Council on Patient Safety in Women's Health. And data from the Centers for Disease Control and Prevention indicates that about 700 women die in the U.S. every year from pregnancy complications. Sixty percent of those deaths are deemed preventable.
Democratic presidential candidates such as Senator Cory Booker of New Jersey and Senator Kamala Harris of California have talked about those problems on the campaign trail, offering sweeping proposals to address disparities that lead to poor health for many new mothers.
Though maternal and child health experts appreciate the attention to the issue, they also point to what they say is a fairly minor policy option that could make a major difference: increasing access to Medicaid for postpartum women.
"Given that we know that this crisis disproportionately falls on low-income people … Medicaid is a very smart starting place to make sure these people are getting access to needed care," said Valarie Blake, an associate professor of law at West Virginia University who focuses on health care law.
Take Johnson, for instance. At the time of her pregnancy, she was eligible for Medicaid based on a rule that provides women who otherwise might not qualify under strict income restrictions with coverage during pregnancy and for 60 days after. She gave birth August 14, 2018.
But North Carolina has tight eligibility requirements. It is also one of the 14 states that have not chosen to expand Medicaid under the Affordable Care Act. So, by mid-October, Johnson was no longer "Medicaid eligible." Because her physician was backed up on appointments, she lost her coverage before she had a "six-week" checkup.
Eventually, she reapplied for Medicaid and was able to qualify because her status changed since she had a child. But Donald was 8 months old before she was able to see a doctor.
Experts point to the 60-day timeline as a sort of clock ticking on some severe postpartum medical issues: bleeding, infections, breastfeeding issues, and mental health screening, among others.
"If you're on postpartum Medicaid, you need to get those issues solved right away," Blake said.
And that 60-day countdown? It is arbitrary, said Alison Stuebe, a professor of obstetrics and gynecology at the University of North Carolina School of Medicine. It has roots in a general idea across cultures that women need special care after giving birth, but the 60-day mark isn't based on medicine.
"It comes from the same place as the six-week postpartum visit," Stuebe said. "We don't know where it comes from either."
Stuebe chaired a task force for the American College of Obstetricians and Gynecologists that recommended a different approach. Providers should check women two weeks after giving birth, and then continue holistic care for 12 weeks, eventually transitioning the patient to primary care.
That prolonged contact is essential, she said. "Postpartum depression, if untreated, can begin to spiral," Stuebe said. "Even if you're in treatment, after 60 days, you're not better."
Johnson, though, was left to wrestle with severe postpartum anxiety on her own.
She sought support from other new moms on Facebook who were coping with anxiety. Since her son had Medicaid for the first year of his life, his pediatrician was a source of help. She also got care through her local health department's free clinics.
At the federal level, the idea of extending postpartum Medicaid is getting more attention. At a September House hearing, representatives from the American Medical Association, the Icahn School of Medicine, and the Kaiser Family Foundation called for expanding postpartum Medicaid to 12 months as a possible solution to the maternal mortality crisis. The American College of Obstetricians and Gynecologists has also recommended it. Booker's bill would extend Medicaid coverage from 60 days to 12 months alongside other far-reaching proposals. (Kaiser Health News is an editorially independent program of the foundation.)
Beyond protecting women during the medically vulnerable time after they deliver, experts think increasing Medicaid could go a long way toward addressing the racial disparities that exist in maternal mortality rates. Black women are two to three times more likely to die from pregnancy-related causes than white women.
"It's not a silver bullet," said Jamila Taylor, the director of health care reform at The Century Foundation, a nonpartisan think tank. "There's racism in the health care system. Coverage is a piece of that, but we need to transform the system."
Kaiser Health News (KHN) is a nonprofit news service covering health issues. It is an editorially independent program of the Kaiser Family Foundation that is not affiliated with Kaiser Permanente.
Sign up for our newsletter to get the best of VICE delivered to your inbox daily.