Natural treatments and diet for fibroids
Uterine fibroids are common, noncancerous growths that develop in the uterus. Some people use natural treatments and dietary changes to relieve the symptoms associated with fibroids. But do these treatments work?Not all uterine fibroids cause symptoms, and they do not always need treatment. Fibroids can shrink and disappear, especially after menopause. A person may have…
Uterine fibroids are common, noncancerous growths that develop in the uterus. Some people use natural treatments and dietary changes to relieve the symptoms associated with fibroids. But do these treatments work?
Not all uterine fibroids cause symptoms, and they do not always need treatment. Fibroids can shrink and disappear, especially after menopause. A person may have fibroids without knowing it.
Doctors can recommend some medical treatments for fibroids, but some people may also try dietary methods and herbal medicines to relieve symptoms. However, there is very little research to say that they are effective.
In this article, we explore the evidence behind natural treatments for fibroids, including herbal remedies, and dietary and lifestyle changes.
What are fibroids?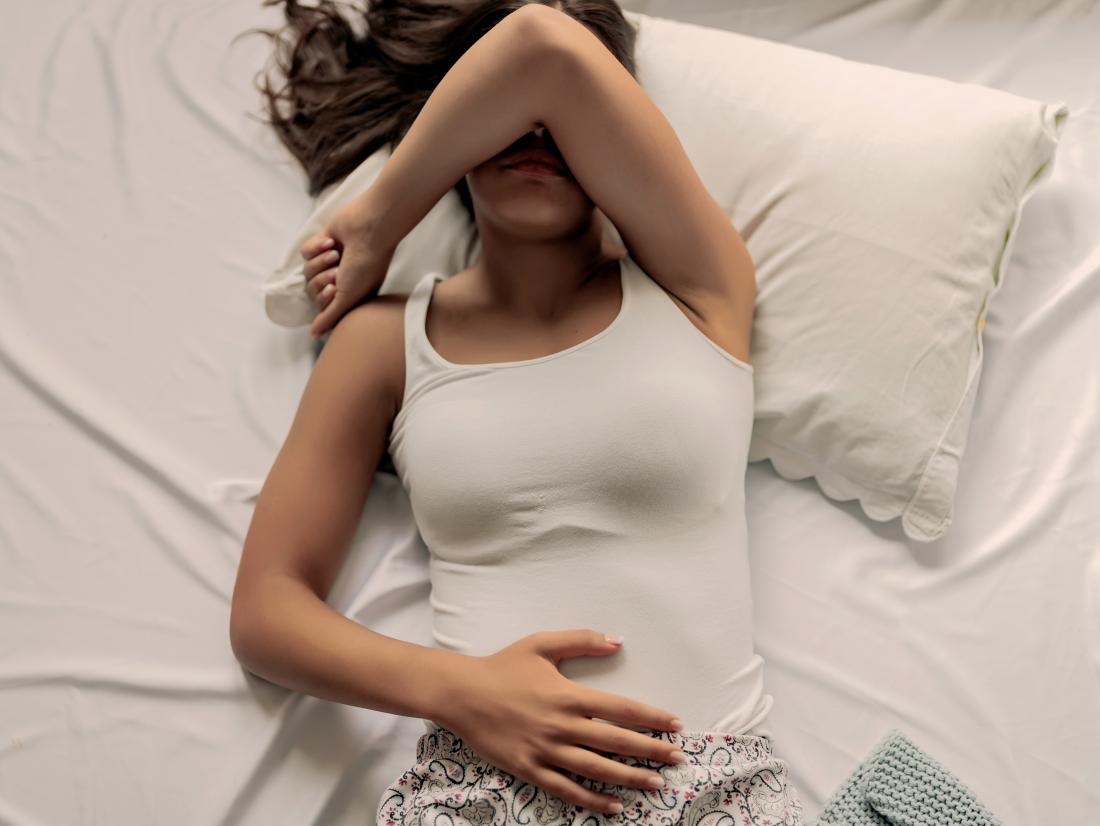 A person with fibroids may experience heavy periods.
Fibroids, also called leiomyomas, are noncancerous tumors that sometimes develop in the uterus. They are the most common noncancerous gynecological tumor in premenopausal people. Estimates vary, but according to the Office on Women's Health, fibroids may affect between 20 and 80% of people before age 50.
Around 1 in 3 females with fibroids may experience symptoms that can include:
heavy or painful periods
abdominal or lower back pain
frequent urination
dyspareunia, or pain during sex
Can natural treatments help with fibroids?
In many cases, fibroids shrink and disappear without treatment. However, if a person experiences bothersome or severe symptoms, a doctor may recommend treatment, which includes birth control pills or surgery.
Some medications can shrink fibroids, but they often result in adverse side effects. For this reason, doctors typically only prescribe drugs for short term use or in preparation for surgery.
However, there have been few studies to date that confirm whether changes in diet or using herbal remedies can help treat fibroids or prevent someone from developing them.
One 2016 article investigated the possible role of diet and complementary or alternative medicine in treating fibroids. It concluded that although some foods might reduce the risk of developing fibroids, others might increase the risk. It was also unable to confirm whether herbal medicines can help.
Of the studies that do exist, most cite research from cell cultures or animals. This means that researchers do not know whether the remedies will have the same effects in humans.
Scientists must carry out more research on humans before medical professionals can recommend any complementary medicine or other natural remedies for the management or treatment of fibroids.
However, some experts believe that some lifestyle changes can enhance a person's quality of life and help improve some of the symptoms associated with fibroids, such as painful periods and depression. These changes include eating a healthful diet, getting regular exercise, and using relaxation techniques.
The following sections look in more detail at some of the natural treatments that may help a person with fibroids.
Dietary changes
The following sections look at dietary changes that might help with fibroids:
Meat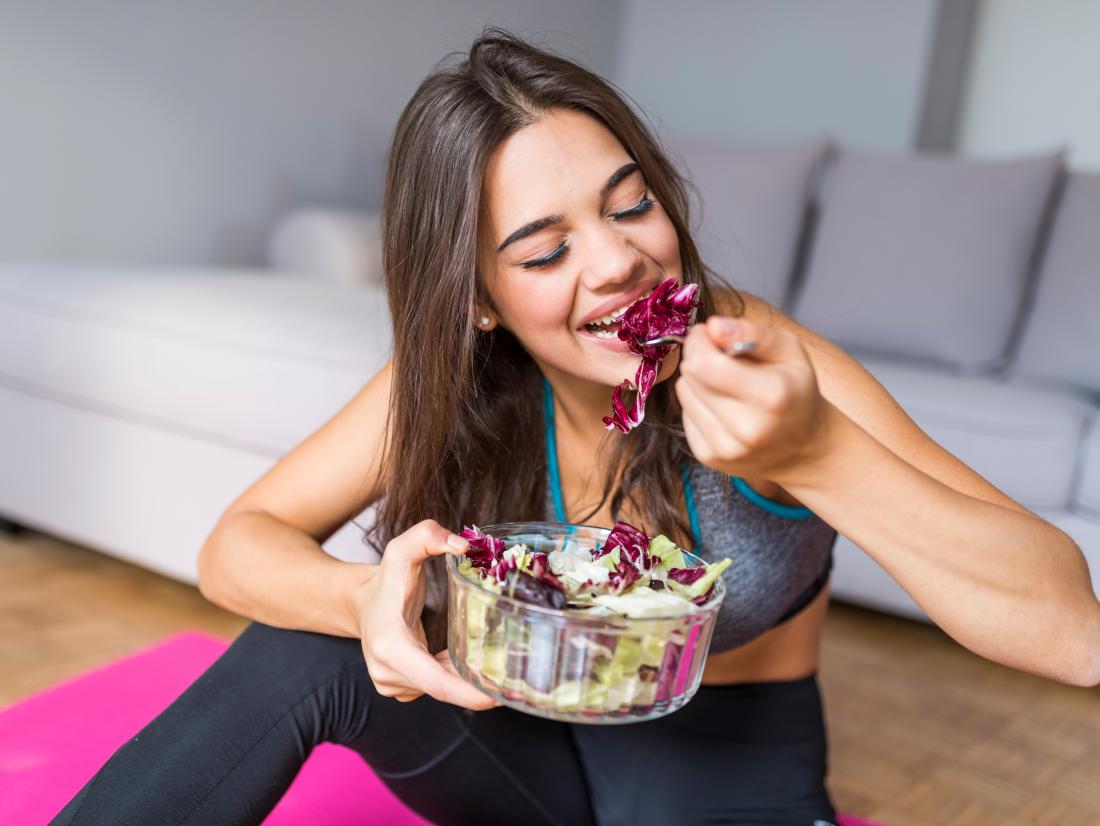 A plant based diet may help reduce symptoms of fibroids.
Stay in the know. Get our free daily newsletter
You've got questions. We've got answers. Expert, evidence-based advice delivered straight to your inbox to help you take control of your health
Your privacy is important to us.
Some research suggests that people who eat a diet high in red meat and high energy-dense foods, which are foods that contain lots of calories, fat, and sugar, may be more likely to develop fibroids. Replacing red meat (beef, ham, or lamb) with white meat (chicken or turkey) may help.
In general, replacing red meats with white meats or plant based sources of protein, such as beans, could be a good move for health. According to the American Heart Association, meat contains high levels of saturated and trans fats, which can raise cholesterol and worsen heart disease.
Vitamins
The results of a study from 2011, which looked at over 22,583 premenopausal females, suggested that people who ate more fruit and more animal-derived vitamin A were less likely to have uterine fibroids. They did not find links with vitamins C or E, folate, or carotenoids.
Animal sources of vitamin A include dairy products, fish, and meat.
Foods that contain certain vitamins may protect against fibroids and also increase the healthfulness of a person's diet. These include:
oily fish, such as salmon, mackerel, and tuna
foods rich in flavonoids, including berries
green vegetables, such as broccoli, spinach, and lettuce
citrus fruits, such as lemons and limes
soya products
broad beans
If a person is unable to get enough of a particular vitamin through their diet, they can consider taking vitamin supplements.
Alcohol and caffeine
A study from 2004 looked at the link between fibroids and alcohol and caffeine in black females in the United States. The results suggested that fibroids had links with alcohol, particularly beer, but they did not find an association with caffeine.
When considering these studies, it is important to note that just because there is a link between factors (correlation), it does not mean that one causes the other (causality). For example, if a specific diet has associations with a higher likelihood of fibroids, it does not mean that people who follow that diet will develop fibroids.
Herbal remedies
Small scale research studies have looked at the effects of various herbal remedies for fibroids, such as green tea and Chinese medicine. More research is needed before doctors recommend these treatments. The following sections discuss current research.
Green tea
Green tea contains chemicals called flavanols, which are antioxidants. Antioxidants help to reduce cell damage in the body by reducing oxidative stress. Oxidative stress is a significant cause of disease.
A 2013 study looked at the effects of taking green tea extract (epigallocatechin gallate) on 33 females with one or more fibroids. The participants took either 800 milligrams (mg) of green tea or a placebo for 4 months. The authors report that those who took green tea extract had less severe fibroids symptoms and that their fibroids became smaller.
Drinking green tea may, therefore, help with fibroids. However, more research is needed before healthcare professionals recommend green tea for fibroids.
Resveratrol
Resveratrol is a chemical that plants produce when they are under environmental stress and infection. Natural foods that contain resveratrol include blueberries, mulberries, raspberries, and grapes.
Research suggests that resveratrol may stop cell growth and reproduction of uterine fibroid cells. However, these studies looked at the effects of resveratrol on cell cultures. Researchers do not know if eating foods that contain resveratrol will affect fibroids.
Curcumin
Curcumin is one of the active ingredients in turmeric. It has antioxidant, anti-inflammatory, and antibacterial properties.
Some research suggests that curcumin can destroy fibrotic cells or stop them from reproducing. Again, cell cultures form the bases of these studies, and researchers need to look at its effects on humans to know whether it will be useful.
Lifestyle changes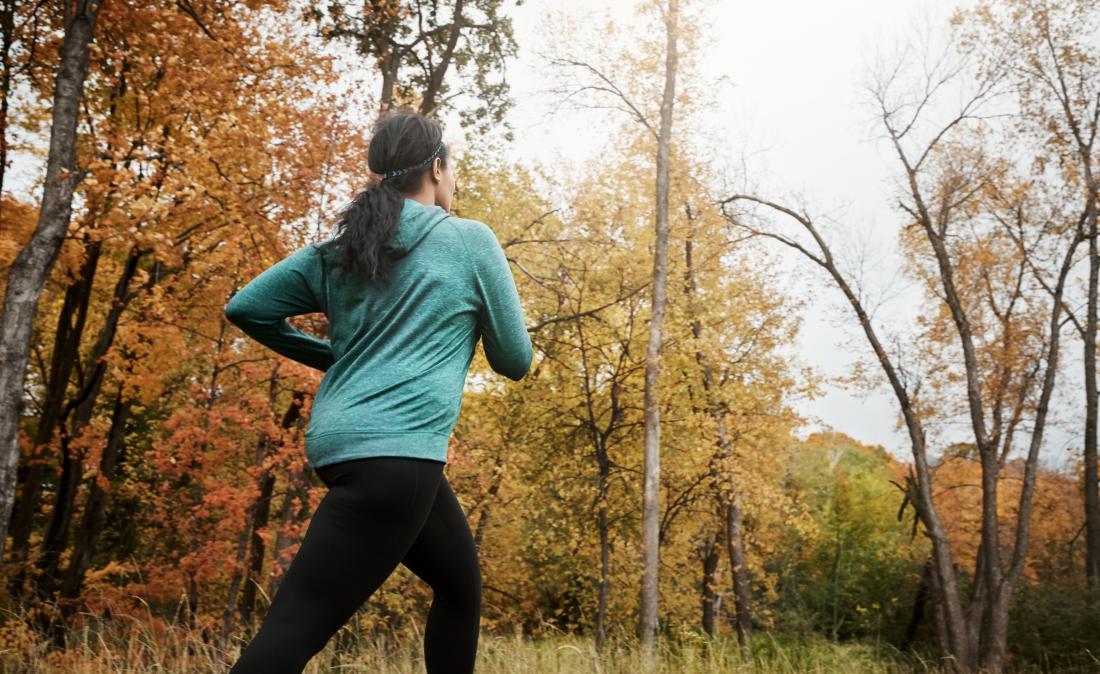 Regular exercise may improve symptoms.
Some people may find that lifestyle factors can help improve symptoms associated with fibroids, such as painful or heavy periods and depression. These include:
regular exercise
breathing exercises
eating a healthful diet
tai-chi
Fibroids are more common in people who are overweight or obese, so maintaining a healthful weight can also protect against fibroids. Getting regular exercise and eating a healthful diet are very effective ways to lose weight.
Medical treatments
Not all fibroids require treatment. If they produce symptoms, a doctor may recommend a range of treatments depending on how severe the symptoms are.
Birth control pills and progesterone-like treatments — such as Depo-Provera injections or intrauterine devices (IUDs) — can help control heavy menstrual bleeding. However, they do not shrink the fibroids.
Doctors can prescribe drugs that shrink fibroids, called gonadotropin-releasing hormone agonists (GnRHa), such as Lupron. However, they can have severe side effects, such as bone loss, so people usually take them for just 6 months. When they stop taking them, the fibroids often grow back.
A range of surgical options can also help treat fibroids. People can talk to their doctor about the best treatment options for them.
Summary
Uterine fibroids are common noncancerous growths in the uterus. Although they may not be cancerous, they can affect a person's quality of life.
Doctors can prescribe hormonal therapy and other medications to treat the symptoms of uterine fibroids, though their effectiveness is limited. Surgery is the most effective treatment.
Although some research suggests that diet and herbal remedies can help with fibroids, many studies in this area not methodologically strong or not carried out in humans. Further research is necessary to confirm these findings, and people should speak with their doctor about any dietary changes they can make to improve their health.
Stressed Students, Bridesmaids Drama, And More: An Advice Column From A Total Amateur
Hi! A while ago I asked the BuzzFeed Community to tell me a problem they're having, so that I — a person with absolutely zero professional qualifications to help anyone — could give them advice. So, here are the results! NBC 1. "Dear Andy,I have NO idea where I should go to school… I'm applying…
Hi! A while ago I asked the BuzzFeed Community to tell me a problem they're having, so that I — a person with absolutely zero professional qualifications to help anyone — could give them advice. So, here are the results!
1.
"Dear Andy,
I have NO idea where I should go to school… I'm applying to 12 schools, 10 on the west coast and two in BC. I'm a high achieving student (I'm in five AP classes, president of two clubs, volunteering and a job, etc.) and I don't want to go somewhere that's all about the pressure, but I still want a high quality education. I'm so lost, help!"
—The Overwhelmed Student
Dear Overwhelmed,
You posted this just to dunk on all of us academically, didn't you?
Kidding. In all seriousness, you can get a very good education at a bunch of different schools. And when you're done, you'll have a degree that probably nobody will ever verify! In my completely amateur opinion, the only reason people think the "Ivy League" schools are better is because a lot of wealthy, well-connected people go there (and have gone there), and therefore when you graduate from one, you're more likely to get in at some fancy law firm or whatever because of your connections. So if you aren't planning on being like, IDK, the CFO of Waystar Royco or something, just pick the school that you really want to go to. Where are you going to be happy living? Is one of the schools in a city you already want to move to and/or the city that has jobs in your future profession? Is it important for you to be close to home? How many Wendy's are there on campus, and do they carry Spicy Nuggets? These are the questions you should be asking.
Oh, wait, actually…forget all that. Go to the school that will cost the least when you factor in tuition, room & board, and any scholarships you might get. Student loans are a curse and you want as little of them as possible. In the end, you might not even end up doing the thing you studied in college. Wanna know what degree I have? A BFA in Theater Performance. An acting degree. And now here I am, writing for a website. You'll be fine.
—Andy
2.
"Dear Andy,
I got married this summer, and I decided to choose only family to be my bridesmaids. For me this included three female cousins and my (now) sister-in-law. My husband, on the other hand, decided to do a mix of family as well as friends from high school for his groomsmen. I had no problem with this at all.
I had a few friends who I knew would expect to be bridesmaids, so I made it clear to them from the very beginning that I would be choosing family only as to not have a huge wedding party, but I told them they were not any less important to me and that I still wanted them to be involved in the wedding as much as they felt comfortable with. Most of the friends I had this conversation with were very understanding, however one straight up told me that she was disappointed (this was two years before the wedding).
Now it's been a few months since I got married and this friend (a friend from childhood) started talking about the wedding. She told me she felt left out of the wedding since she wasn't part of the wedding party. It particularly bothered her that my husband included friends and I didn't. She then proceeded to tell me that it was difficult for her to be there the day of my wedding because of these feelings. AT MY WEDDING. She also included the fact that she didn't want to upset me and that it doesn't change our friendship. But if that is the case then why say anything in the first place? I've already said one too many times the reason for my bridesmaid choices and how important she is to me regardless. And she says she understands. I just wish she would let it go. Ever since this conversation I feel like I've been seeing her in a whole new light.
I do care about her feelings, but I stick by my decision and I don't regret anything. I feel like I've done everything I can to make her feel better."
—The Besieged Bride
[TL;DR: Bride had only family as bridesmaids, groom had some friends in the mix, bride's childhood friend felt left out and complained about it a few months after the wedding.]
Dear Besieged,
Question one: How drunk was your friend when she brought this up to you? If she was like, a 6 or more out of 10, I say let's give it a pass and hope she got it out of her system.
Question two: Has your friend had a wedding of her own yet? If yes, then she should've understood the situation, because wedding planning is a special kind of hell and inevitably you have to make difficult decisions like this one that might hurt people's feelings. So if you've planned your own wedding, you know the deal and you're able to say to yourself, "It's their wedding, I'm just going to be supportive and have fun." If she hasn't gotten married yet, she'll realize later that it was totally inappropriate to complain about this to you. Hopefully.
—Andy
3.
"Dear Andy,
I have been taking so many of the relationship quizzes on BuzzFeed but they all say I'm single. The major problem is I have an S.O. Is she just faking or am I?? Help me!! Is my girlfriend not actually mine or are we real?"
—The Quizzical Quiz-Taker
Dear Quizzical,
You're not real. This is all a simulation.
—Andy (or am I?)
4.
"Dear Andy,
I'm not sure where to live. I live in Milwaukee, WI, right now. Moved here three years ago for school, but that fell through because Milwaukee is friggin expensive. My family wants me to move back to the other side of the state, towards Minneapolis/St. Paul. What should I do?"
—Meandering the Midwest
Dear Midwest,
Get the fuck out of there, it's so cold! Listen, I used to live in Michigan, and it was depressing because it was grey and miserable nine months out of the year. Now I live in Southern California, it's sunny and beautiful and my vitamin D levels are through the roof. Migrate south, seriously.
But if you HAVE to stay, I will say that everybody who lives in Minneapolis seems to LOVE Minneapolis for some reason.
—Andy
5.
"Dear Andy,
My problem is that I struggle with feeling attractive. I started taking birth control when my boyfriend and I started dating (six years ago). I started gaining the weight right after. I'm now a size 12 and my boyfriend is a slender guy. I haven't felt attractive in the last year. I gained so much weight at one point I was a size 16. I'm back to a 12 and trying to lose weight again. I don't feel sexy or beautiful in any way. I prefer to keep my shirt on during sex now. I don't know why my boyfriend still finds me attractive. I have a tummy, I have rolls when I sit down, I just don't know what he sees anymore. Any advice you could give me would be much appreciated."
—Struggling With Size
Dear Struggling,
First off, don't worry about your boyfriend. Clearly he finds you attractive, and when you actually care about someone, the size tags on their clothes don't matter to you at all. Appreciate that fact and find some security there.
Now, consider the possibility that if your boyfriend finds you attractive at any size, you can too! It's not easy. It requires shedding every bit of toxic influence that the media and our society overall has thrown at you for your entire life. That takes time and work.
But if you are worried about your physical health at all, consult a doctor. There are many different types of birth control and like 40 different pills, and everyone reacts to each one differently. It can take time to find the right one, and not every doctor is going to be helpful about it. Advocate for yourself if you're unhappy with your medication. You may have done all of this already and I'm just sitting here mansplaining BC to you, but if so at least you can cross that off your Mansplaining Bingo Card.
—Andy
That's it for this week. But if you're having a problem that you need advice about, let me know! It could be anything: petty arguments that you need a judge to decide who was right and who was wrong, help making life decisions, relationship issues — I'm your completely unqualified man. Email imho@buzzfeed.com (for total anonymity) or leave a comment here!